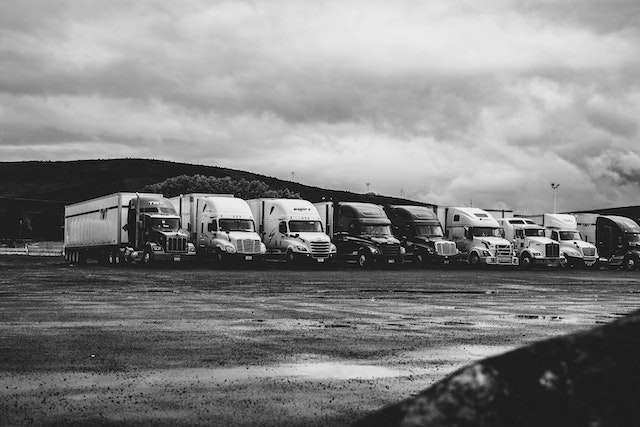 Many of the biggest trucking firms in the country got their start with just one driver, their vehicle, and a vision. The question of how to start a trucking business may be challenging at first, and success isn't always easy to come by for first time entrepreneurs starting an LLC or corporation. But it is possible. The fundamental procedures for starting a trucking company are the same whether you intend to start with one truck or a fleet.
The economy would practically stall without small trucking companies and the workers who work for them. So why not start a successful trucking business and enter a sector that will always be in demand?
Step 1: Acquire experience first
Veteran owner-operators typically advise newcomers to the trucking profession to get experience as corporate drivers before taking on the task of starting a trucking company.
What for? Because there is a lengthy process of learning involved in operating a commercial vehicle in different conditions, inexperienced truck drivers frequently make rookie blunders including getting stuck, backing into things they shouldn't, and other accidents.
The task of learning to properly run and start your trucking company, which has its own high learning curve, is added to the burden of learning to drive a big truck. What are the benefits of acquiring experience prior to starting your own business?
Large carriers are dedicated to giving their new drivers the instruction and direction needed to become effective truck drivers.
Large carriers are able to afford blunders that might cost a novice driver who started their own business.
You can concentrate on learning how to work safely and in accordance with legal requirements.
You'll discover how to manage busy schedules without going against the rules of hours of service.
You will become more knowledgeable about the regular or digital maintenance, fuel, and other expenses associated with operating a commercial vehicle.
You may start building your network of shippers and drivers, which will be useful when starting your trucking company.
Before you commit a significant amount of money to start a trucking company, working for a big company first can help you determine whether trucking is the correct career choice for you.
Step 2: Focus on writing a solid business plan
You can better focus on the essential elements of your organization by writing a business plan. A strong business plan outlines the rationale for your company's creation, the funding needed to get off the ground, financial predictions that show costs in relation to expected profits, and other strategy specifics.
Developing a trucking company business plan helps you stay focused on developing your organization in accordance with a plan, which is especially useful as you begin and may not have time to shift your attention back to your broader strategies. Any application for a small business loan must also include a business plan. You'll be happy you made a plan before you started requesting funds since the procedure will go more smoothly.
Step 3: Finalize all documentation for business registration
Your personal possessions and business liabilities are segregated when you operate your trucking firm as a properly constituted corporation or limited liability company (LLC). As an owner-operator, establishing offers various legal, tax, and business benefits in addition to safeguarding your private possessions.
The following actions must be taken while forming a corporation or LLC: 
A registered agent should be chosen. In most states, a registered agent is necessary in order for the state to communicate with a business entity. The registered agent must be present at a real address during defined business hours to sign for and receive legal notices, state mandates, wage garnishments, and tax paperwork as the designated point of contact for the Secretary of State. It's crucial that registered agents are always reachable. A missing delivery can endanger the good standing of your business with the state, or make it possible for a lawsuit to be filed against you without your awareness.
To open a bank account, get your EIN. Your company's employer identification number, or EIN, functions similarly to a social security number. This nine-digit number must appear on all tax filings for the duration of your business in order to create a business bank account and on all tax returns.
Step 4: Acquire insurance, permits, and business licenses
The majority of state, county, and local governments demand that businesses have all necessary licenses and permissions in place before they can start operating. Any number of licenses and permissions may be necessary for your business, depending on your service and the location where your trucking company operates. Each owner-operator should evaluate the following things to operate a prosperous trucking business:
A CDL for commercial driving: Drivers of commercial motor vehicles are required by federal law to earn a CDL. For more information, speak with the licensing body in your state.
USDOT Number: When undertaking inspections, inspections, and investigations, the Federal Motor Carrier Safety Administration (FMCSA) uses the trucking company's specific USDOT Number to identify the business.
An MC number, or motor carrier operating authority: Depending on how your company operates, you might need to secure more than one MC number for your trucking company.
Credentials for the International Registration Plan (IRP) and an International Fuel Tax Agreement (IFTA): These are required for trucking companies that operate in or across numerous states.
Step 5: Obtain startup capital
You might require business loans or investors to cover launch costs when starting a trucking company. For funding, check with big and local banks as well as credit unions. Due to larger banks' requirement for a two-year operational history, credit unions may be easier to obtain a loan from. 
Additionally, your business plan will likely be the first thing lenders, investors, or potential partners want to see if you need to approach them for financing for your trucking company.
Step 6: Choose the appropriate equipment and tools
Start investing in the machinery (truck, trailer, etc.) you planned. You're probably not making any money right now, so don't blow your budget by purchasing things you don't actually need.
Here are some pointers when buying a truck and/or trailer:
While older equipment is more affordable to purchase, it is more expensive to maintain.
Choose a truck brand and model that has a solid reputation for dependability, high fuel efficiency, and affordable maintenance expenses.
Leasing is always an option if you don't have the money to buy the equipment you need. However, the recurring costs of leasing will have an impact on your company. Before making a final choice, learn about leasing procedures, understand supplemental charges, and evaluate offers from various leasing firms.
Step 7: Pick the right truck
You should weigh various aspects while choosing your truck, such as the lease purchase trucking decision. This is based on how much money you can spend as a small business owner. Additionally, there are a number of benefits and drawbacks to each approach. There is no need to make ongoing monthly payments when you can purchase a truck entirely. Additionally, you can also trade in your truck in the future for the built-in equity. Of course, depending on whether you purchase new or used, this also entails a greater down payment—typically between 10% and 25%.
You don't own your truck when you lease it. Regular payments are required, and you cannot utilize the equity to purchase a new truck. You must also follow certain rules, such as maintenance requirements and mileage limitations. However, leasing has some benefits, prominent among which is that the lessor frequently pays for your maintenance costs.
You'll probably need to find a way to finance your purchase, whether you decide to buy or lease.
Step 8: Record your spending
The business costs incurred by your trucking firm must be understood. The most efficient ways to keep track of insurance payments, truck maintenance and repairs, truck and trailer loan payments, fuel, office expenses, salaries, and other expenses are a profit and loss statement and bookkeeping software. Even tracking tax deductions can result in financial savings for you. You'll be able to calculate your company's operating costs once all of your expenses are collected in one location. To make sure your trucking business is profitable, you must understand how much it costs to run. Setting a minimum cost per mile can assist ensure that you never undercharge for a load or fall short of it.
Step 9: Discover loads to expand your company
You will need to locate freight to transport when starting a trucking company. Utilizing load boards to locate new clients is one way to achieve this. Another choice is to develop connections with potential clients through networking and marketing initiatives. Make direct contact with regional shippers and visit potential clients at their place of business. Start with relevant small company trade exhibitions or industry associations.
Step 10: Compliance 
Long-term profitability depends on maintaining compliance with state and federal standards. It's essential that you observe all deadlines for licenses, permits, filings, and insurance renewals. The papers you must carry on board your truck should be in a visible and easy-to-remember place.
At all times, operate vehicles safely, which includes adhering to weight limits, service hours, and other safety rules. Failure to do so could lower your safety rating and prevent you from hauling loads for some shippers who demand high safety ratings.
Are you ready?
The question on how to start your trucking business can seem difficult to implement. In actuality, the procedures are not unlike from those needed to launch a small business of any kind. The costs of your equipment may be a little higher and the competition for employees a little fiercer, but the fundamentals of starting a trucking company remain the same. You can launch your trucking company as well with the proper business plan, authorization, and funding in place.
Author Bio
Gjorge Stinikliev has been in the trucking business since 2011. He was then in charge of the day-to-day operations of the transport department, and since 2017 he has been leading a team of recruiters & managing daily recruiting and hiring decisions at Road Legends. He is also directly involved with the company's growth strategies on a daily basis.