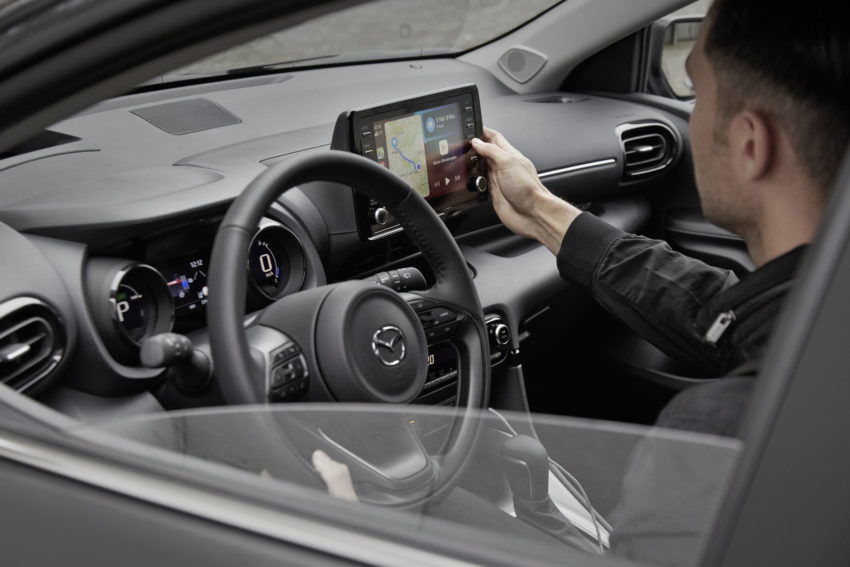 Mazda officially revealed the Mazda2 Hybrid, a rebadged Toyota Yaris for European markets. A self-charging supermini hybrid supermini, the Mazda2 Hybrid will be made available beginning in spring 2022.
We already knew that Mazda was preparing its own version of the Toyota Yaris Hybrid from last year's reports as well as a camouflaged prototype that was spotted a few months ago. We were expecting the Yaris to look identical, but without the badges. Although the Mazda emblem looks different to the Toyota's oval-shaped version, designers managed to integrate it seamlessly without having any body panels changed. As for the interior, the only thing that differs from the Yaris are the Mazda badge and the Mazda2 text on the floor mats.
See Also: Toyota Yaris GR Sport Brings Spicier Styling And Handling But No Extra Poke
The model is based on the TNGA-B architecture measuring 3,940 mm (155.1 inches) long with a 2,550 mm (100.4 inches) wheelbase.
Toyota's latest self-charging hybrid powertrain produces a combined 114 HP (85 kW / 116 PS) and 169 Nm (125 lb-ft) of torque. It consists of an 1,490cc engine with 91 horsepower (68 kW/92 PS), and an electric motor that produces 79 HP (59 kW/80 PS). The motor is connected to the front wheels. A second motor charges the battery pack. This latter charges through energy regeneration, which is achieved by deceleration. It also allows the supermini's to run for extended periods in EV mode.
Mazda2 Hybrid is capable of accelerating from 0-100 km/h (62 mph in 9.7 seconds). But what's more impressive, is its combined WLTP fuel efficiency which ranges between 3.8 and 4.0 lt/100km (74.3-70.6 mpg UK / 61-98.5 mpg US). The CO2 emissions are 87-93 g/km depending on whether the car is fitted with 15″ or 16″ wheels.
See Also: 2022 Mazda2 Gets A Handful Of Updates Down Under, Including New SP Variant
There are three levels of the Mazda2 Hybrid, named Pure, Agile, or Select. Mazda has never offered a fully hybrid vehicle in Europe, which also includes a number of mild hybrids as well as the MX-30. Mazda will use the rebadged model to help reduce its average fleet emissions in Europe, and also comply with strict regulations. Mazda claims it will reduce its corporate average CO2 emissions from well-towheel vehicles by half by 2030, and aim to achieve carbon neutrality before 2050.
Before you go harsh on Mazda, we should remind you that Toyota was offering a rebadged Mazda2 as the North-American Toyota Yaris between 2016 and 2020, so now the Japanese automakers can call it even. Another automaker using the same strategy is Suzuki, which is currently offering the Swace and the Across, which are rebadged versions of the Toyota Corolla Sport Tourer and the RAV4 respectively, in Europe.
PHOTO GALLERY
more photos…
Adblock Test (Why?)