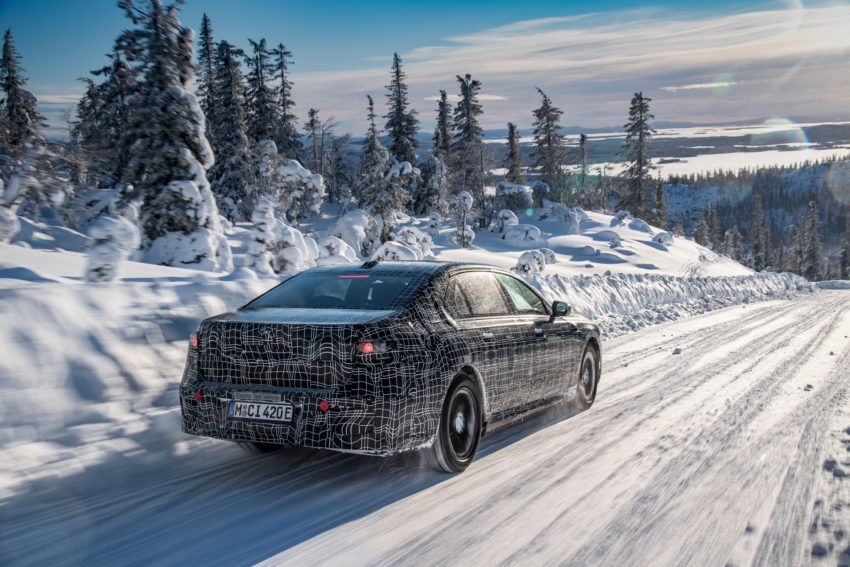 BMW published a set of official pictures showing camouflaged prototypes of the upcoming all-electric i7 during winter testing in Arjeplog, Sweden. The Munich-based automaker suggests that the i7 will be "the world's first all-electric luxury sedan", which sounds like a quite bold claim.
The Mercedes-Benz EQS, which was launched in April 2021 and is currently on sale, is the biggest rival to the upcoming BMW i7. The EQS, however, is technically a sedan. It has a rear hatch. Then there is the Audi e-tron GT and the Lucid Air – both fully electric sedans – but their sub-5-meter length puts them closer to the smaller Mercedes-Benz EQE / Audi A6 e-tron / BMW i5 trio.
In other words, BMW is probably right about the i7 being "the world's first all-electric luxury sedan", as was Mercedes-Benz when they said their EQS was "the first electric vehicle in the luxury class".
Read Also: BMW's Design Director Says The Brand's New Models Need To Be "Bold And Meaningful"
We have been able to see the prototype quite often in our scoops so it is not surprising. The black camouflage with white patterns can't hide the traditional three-box proportions with a long bonnet and a generous wheelbase – features that will be shared with the next BMW 7-Series.
In terms of design details, we've already talked about the low-positioned headlights and the huge grille, which in the case of the i7 will be mostly covered. The bumper seems to have thin side intakes while the clamshell bonnet and the profile are more sculpted than the current 7 Series while retaining signature elements like the Hoffmeister's kink at the C-pillar.
See Also: 2023 BMW 7-Series Drops More Camo, Can Someone Put It Back On?
The prototype spent a lot time on frozen roads and surfaces covered in snow at the BMW Group winter test centre in Arjeplog. This is only a short distance from the Arctic Circle. Engineers are there to test the suspension, steering and braking systems as well as driving dynamics and stability. In typical BMW flavor, the goal is "to raise the balance between sportiness and ride comfort". Every powertrain model of the 7 Series/i7 will have a slightly different configuration.
The fifth-generation BMW Drive technology will be used in the i7. It was first introduced with the iX. The company didn't reveal the specs of the electric powertrain or the high-voltage battery, other than the combined WLTP energy consumption which is 22.5-19.5 kWh/100 km based on current estimates. By comparison, the Mercedes-Benz EQS 450+ has a lower energy consumption of 19.8 – 15.8 kWh/100 km but it also seems to have a more aerodynamic shape.
Bavarian firms confirmed their plans to unveil an electric flagship in 2022.
PHOTO GALLERY
more photos…
Adblock Test (Why?)