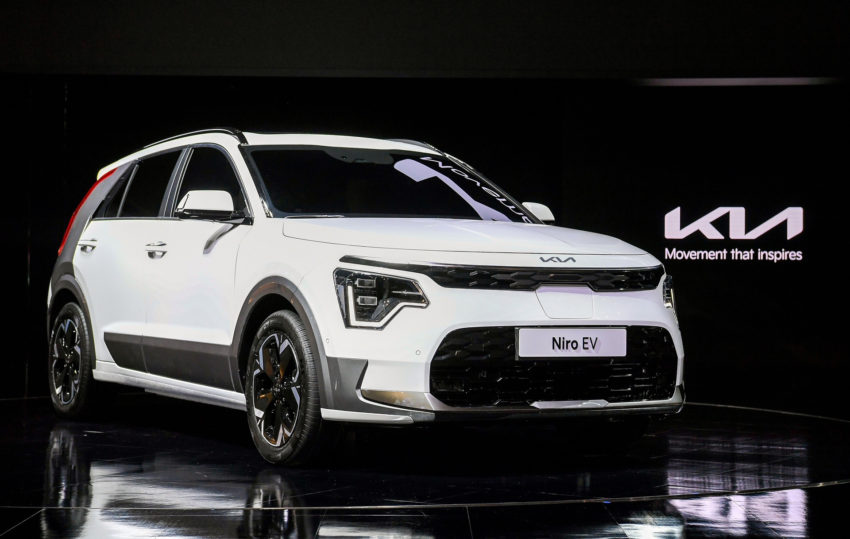 Last week, Kia unveiled the redesigned Niro compact crossover vehicle at the 2021 Seoul Mobility Show.
The exact timing of the U.S. launch has not been confirmed, but the new Niro will be available at dealers in 2022 with a model year 2023.
We have spy photos of the prototypes and teaser shots that show the vehicle in action. It has a striking look, similar to the newly revealed 2023 Sportage. First seen in the Habaniro Concept Car, which was unveiled in 2019.
Kia states that wide C-pillars improve air flow and aerodynamic efficiency. Unfortunately, this design can also reduce rearward visibility. The front features a low-set, clamshell headlights and a clamshell roof. Daytime running lights are described as having an "heartbeat signature".
Interior design has improved significantly over current models. The new dash features a simple, clean look, and one element that combines a digital instrument cluster with the screen for the infotainment systems. A headliner from recycled wallpaper is used and the seats are made with an organic-based, polyurethane.
Following the same strategy as the Niro before it, the new Niro will offer hybrid (Niro Hybrid), plug in hybrid (NiroPHEV) or battery-electric (NiroEV) options. The powertrain specifications have not been released, but the Niro EV will offer more range than the previous model with 201 hp. Bidirectional charging and an 800-volt electrical system are possible features of the new vehicle, which will be similar to 2022's EV6.
Depending on where the vehicle is located, the Niro PHEV has a feature that switches it into electric mode. The feature uses navigation and driving history data to automatically select an electric mode for when you enter a residential area, city, or near hospitals or schools. The feature can also identify electric zones in areas that are frequently visited, such as your office or home.
Despite the introduction of new dedicated EVs, such as the EV6 (an EV9 also in the works), Kia will keep launching electric versions of cars that can also run internal-combustion engines. The new Niro EV is one example of this. Kia intends to launch 11 EVs by 2026. Of these, seven will be dedicated EVs.