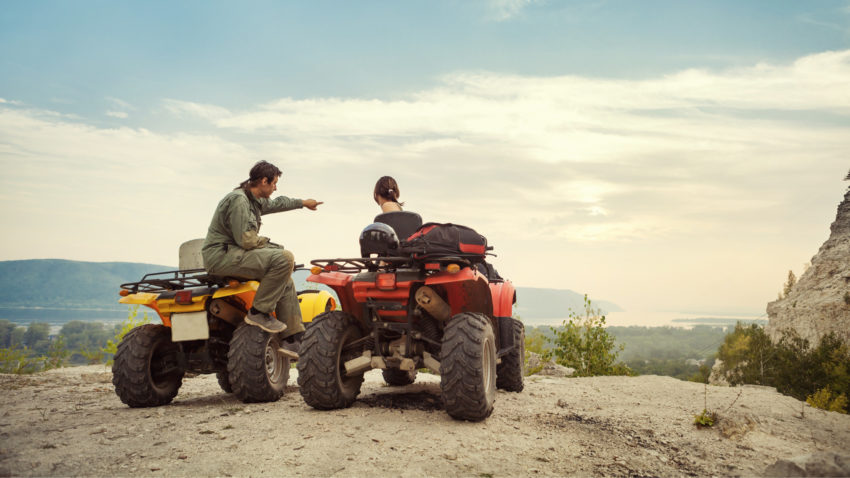 Enjoying music on the road is one of the most enjoyable things about owning an ATV, but to make sure you're getting the most out of your drive time, you'll need a solid set of ATV speakers.  
There are many tips for buying ATV speakers, but we'll cover the three most important ones below! 
1. Pay Attention to Ease of Use
One of the most important things you need to consider before investing in a good set of ATV speakers is ease of use. You don't want to have to stop and pull over every time you feel like changing the song or adjusting the speaker volume. 
It's often overlooked as an integral part of an ATV audio system, but simple controls will be one of the most important things you can look into. To make sure you get a good audio system, consider the following: 
Are the Controls Intuitive? 
The controls for your ATV audio system should be easy to use, which means they need to be intuitive enough that you can operate them without looking down. Look for reviews to see what people are saying. Pay special attention to people who seem to be frustrated with any functions.
Wired or Unwired? 
If you want to play your music, you're going to need an easy way to connect to the sound system. Using a wireless Bluetooth-enabled setup tends to be the easiest way to accomplish this. All you need to do is connect your music device and go! 
However, more experienced or technically savvy ATV owners might look into a wired option. These ATV audio systems are typically more complicated to set up but can still provide great music quality. 
2. You'll Want a Good Power Output
To get quality sound that will boost your music volume over the sound of the engine, you're going to need a powerful amp. The ideal set of ATV speakers will have an amp that can boost the sound quality without distortion and use minimal wattage. 
3. Make Sure it has Weatherproofing 
The last thing you want is to be limited to your ATV use because your speakers don't have the proper weatherproofing. When you're researching the best ATV speakers, make sure you pay attention to the materials used in the construction of the audio system. 
Materials like polyurethane that have the ability to withstand harsh weather conditions, corrosion, and other elemental damage are ideal. 
Making a Decision on Your ATV Speakers
When you're about to make an investment into a new audio system, you want to be sure you're getting the most value. We hope these 3 pro tips will help you evaluate the ATV audio systems on the market. 
Now that you have a better idea of how to get started on the search for your ATV speakers, you're sure to make a great decision. 
Want to learn more about picking the perfect sound system? Check out our other blogs on how to pick a great audio system!