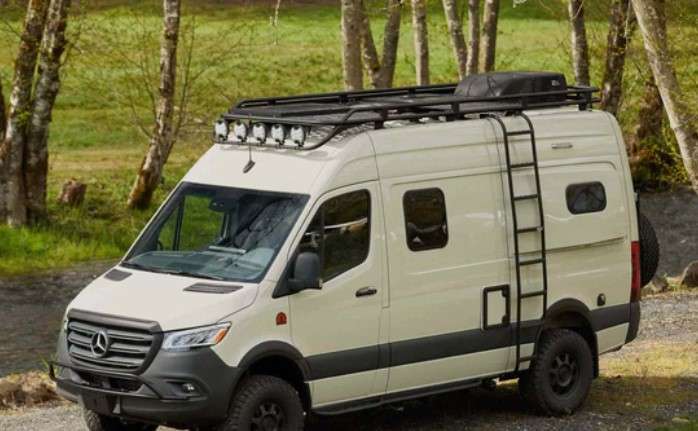 Sprinter Van accessories are a method of customizing your van. They can make it more useful, comfortable, and safe. Read on for the top three (3) reasons you need these Sprinter Van accessories.  
Reason #1 for Sprinter Van Accessories: Safety
Whether you're using your Sprinter Van as a recreational vehicle, to haul tools, equipment, and materials, or as a people mover, vehicle safety should be your 1st priority. The best ways of making sure your vehicle is safe are:
Strapping everything down to the vehicle's sides or using aftermarket roof rack systems. This may be accomplished with 

L-Track Anchors with D-Ring Hooks, which retails 10 for $35.00. The anchors are rated to handle 3,960 lbs.
1" Cam Buckle Straps are 96" long heavy-duty nylon straps and come with anchors rated to handle 680 lbs. They come in "L-Track" loops, "L-Track" anchors, and "S-Hooks" varieties. All variations of the package retail for $49.00. 

Having appropriate ways of accessing the Sprinter Van's roof, mainly using a built-in ladder. There are 3 types of ladders:

Wheel wrap side ladders, which retail for $745.00 
"Standard" side ladders, which retail for $695.00 
Rear ladders (driver side and passenger side models available), which retail for $695.00

Having a spare tire available at all times but not needing to worry about where to store it. Don't worry! FVC Sprinter Van Accessories have you covered with the Sprinter Rear Tire Carrier. It retails for $1,195.00 
Reason #2 for Sprinter Van Accessories: Accessibility 
Sprinter Van Accessories help with accessibility; that is, how quickly and easily you're able to enter and exit your vehicle. Step accessories such as the:
Sprinter Side Step 144", which retails for $1,495.00 
Sprinter Side Step 170", which retails for $1,695.00 
The textured step stops short of the rear wheel arch to allow for a side ladder, whereas the passenger side is longer. 
Rear Step, which retails for $349.00 
Rear Tube Step is made of textured solid steel, usable as a vehicle recovery point. It retails for $995.00
Reason #3 for Sprinter Van Accessories: Storage
Storage is always a good thing, no matter how you use your Sprinter Van – for business or pleasure. But what type of storage do you want? It depends on what you're doing with the vehicle. At a bare minimum, you may wish to consider the following options:
Storage Cubbies to contain the odds and ends that collect in the van. Throw a liner in them and use it as a makeshift garbage can. Conversely, you might put small tools, compact toolkits, or first aid kits in them to always have them within easy reach. They retail for $275.00
Galleys are lower cabinets for your Sprinter Van. Their wooden top can be used as a cutting board or small work surface. Add a burner, sink, mini fridge, or microwave for a super-efficiency kitchen. The 24" galley retails for $2,150.00, whereas their 41" model retails for $2,850.00. Both models can fit the: 

Engel SR70 Fridge-Freeze, which retails for $730.00 – $899.00   

Isotherm Drawer 65, which retails for $1632.00 – $1836.00 
Both "Large" and "Extra Large (XL)" Wheel Well Cubbies help use space that would ordinarily be wasted. They retail for $495.00 (large) and $549.00 (XL) respectively.
Cabinets are the "uppers" for your Sprinter Van. They come in a variety of sizes to suit your needs:

Both the 24" & 48" cabinets are made of bamboo and come in grey, black, or white. The 24" model retails for $495.00, whereas the 48" retails for $695.00.  
The 36" model is open-faced and retails for $395.00, coming only in black with a gunmetal grey face.    

The "pull out" tray helps to organize items in the back of your Sprinter Van. This accessory is perfect for holding heavy toolboxes, loose tools, barbecue grills, and coolers. Even if the vehicle's primary use is as a people transport, it still could come in handy as extra beneath the seat storage. It retails for $895.
Sprinter Van Roof racks are the perfect option for when you wish to transport oversized or bulky items that won't fit into the vehicle. The roof racks come in the following varieties:

The Sprinter 144 "High Roof" Standard Roof Rack comes with (7) crossbars and weighs 79 lbs. It retails for $1,995.00. 
The Sprinter 170 "Standard" Roof Rack comes with (9) crossbars and weighs 99 lbs. It retails for $2,295.00.
The Sprinter 144 Low Pro "Low Roof" or "High Roof"  Roof Rack comes with (6) crossbars and weighs 51 lbs. It retails for $1,495.00.
The Sprinter Roof Rack 170 Roof Rack comes with (8) crossbars and weighs 70 lbs. It retails for $1,695.00
All crossbars are made of anodized aluminum for extra strength. 
The  Sprinter Safari Rack comes in two styles: the 144 model, which weighs 150lbs, retailing for $3,750.00, and the 170 model, which weighs 190lbs, retailing for $3,950.