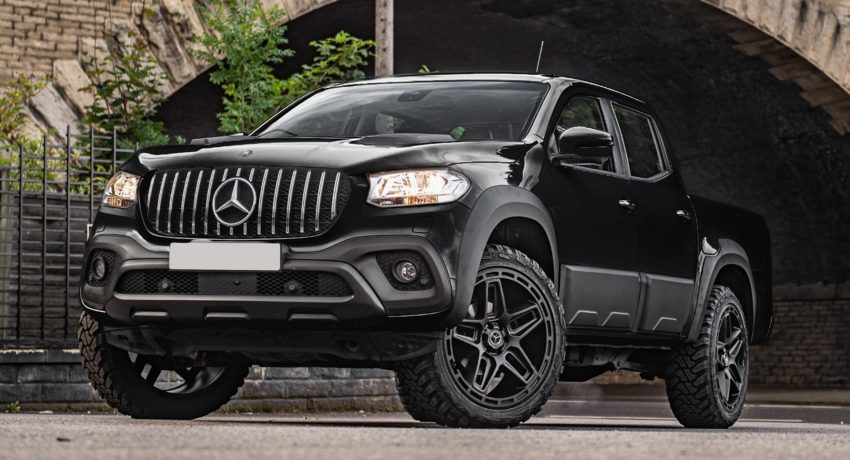 The Mercedes-Benz X-Class may have been discontinued since last year due to slow sales, but UK-based Chelsea Truck Company is currently offering a modified version of the pickup called "Dark Destroyer" with a price tag of £49,999 ($66,803).
The tuned X-Class benefits from Project Kahn's styling package including wider fenders, protective door guards, vented bonnet, and black-painted bumpers for a sinister look.
See Also: Chelsea Truck Company's Mercedes X-Class Goes For $63K, License Plates Cost An Extra $28K
The 22-inch RS-XF wheels are also painted in black, looking pretty cool in combination with those chunky Mud-Terrain tires and the suspension lift kit. A Dark Destroyer comes with tinted, bulletproof glass and an optional hard top for its rear bed.
Even though it was unveiled originally in 2017, the X-Class looks very modern and is easily modified with tuners. This is evident in the Dark Destroyer, which we think looks great. We would also add a pair LED headlights to the vehicle since they are a bit outdated.
We find a quilted soft leather interior with red accents and stitching on the seats and new trim at the central armrest and door armrests. If this interior looks familiar it's because a very similar spec was used on Project Kahn's previous X-Class projects. The factory fitted features include navigation, a reversing camera and Bluetooth connectivity. There are also automatic lights/wipers.
See Also: Sith Lords Be Like, "Mmmm" With Kahn's Custom Mercedes-Benz X-Class
Under the bonnet is the stock 2.3-liter turbodiesel that produces 190 HP (142 kW/ 193 PS), not the more powerful V6. Through a 9-speed auto gearbox, power is delivered to each of the 4 wheels.
This model has 13500 miles (21 726 km) and was manufactured in 2019. It is currently available for sale through Chelsea Truck Company's official website, but whoever likes it and already has an X-Class can buy the kit independently. Of course, you shouldn't feel limited about the aforementioned modifications, since Chelsea Truck Company is offering plenty of options for those who are interested.
PHOTO GALLERY
more photos…