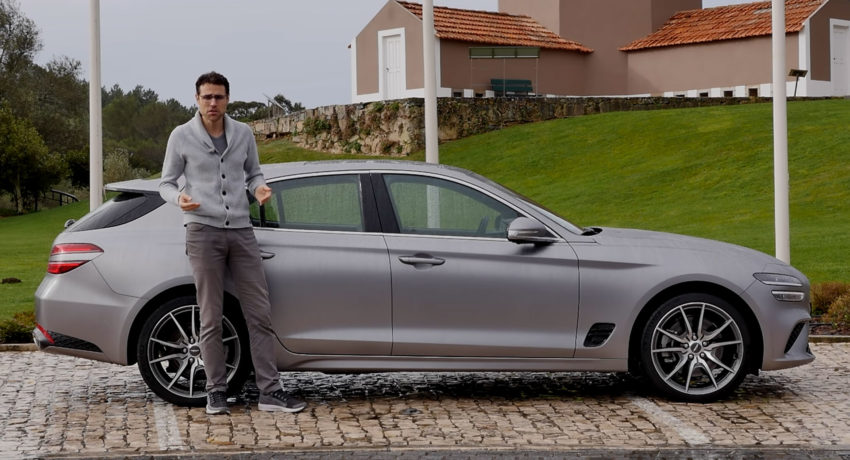 The Genesis G70 Shooting Brake has launched into a market long dominated by the Germans and Autogefühl are among the first to put it through its paces.
The Genesis G70 was launched in 2018 and has received high praises. It is widely considered to be one of the best compact sedans on the market. This car is extremely responsive and handles well. It also costs less than its German competitors. Is the Shooting Brake version just as good?
The G70 Shooting Brake in Europe is offered with two engines: a turbo-diesel four cylinder of 199 horsepower and a turbocharged four cylinder petrol of 251 horsepower. As the G70 Shooting Brake is being marketed predominantly to European buyers, the G70 sedan's 3.3-liter twin-turbo V6 available in other markets isn't offered. The example tested by Autogefühl had the 2.0-liter turbo and the available all-wheel drive system.
Learn More: Aussies receive 2022 Genesis G70 Shooting brake with a turbo 2.0L engine and a AU$79,000 start price
The review starts by offering us a comprehensive tour of the car's interior. Genesis has adorned the car's cabin with heaps of soft-touch materials and in this facelifted model, equipped it with a larger infotainment screen. It also has loads of physical buttons, unlike some of its German rivals, meaning it is easy to control key vehicle functions when you're driving. Some premium models rely on touchscreens, such as those for climate control. The touchscreen is even used by the GV70 SUV for climate control.
In Germany, prices for the G70 Shooting Brake start at €42,700 ($48,389) for the entry-level Premium trim with the 2.2-liter turbo-diesel and rear-wheel drive. Topping out the range is the 2.0-liter turbo with all-wheel drive in Luxury trim that's priced from €50,860 ($57,636).