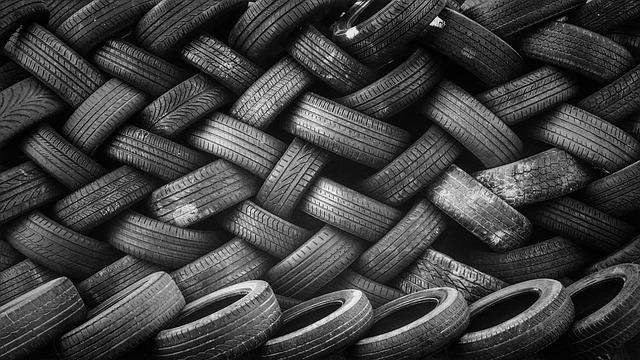 If you're like most drivers, you probably don't think about your tires all that often. But did you know that regularly rotating your tires is one of the best ways to keep them in good condition? In this guide, our friends at SimpleTire help to discuss everything you need to know about tire rotations – what they are, why they're important, and how to do them yourself!
Tire rotations are simply the process of moving your tires from one position, or axle, to another. This maintenance item should, typically, be completed on a regular basis; most carmakers usually recommend every five thousand to ten thousand miles. Rotating your tires significantly helps to evenly distribute wear and tear, which can extend their lifespan and ride quality standards overall.
There are a few different ways to rotate your tires, depending on your vehicle's drivetrain configuration. The most common is the "cross-rotation" method. This simply means that the tires are moved from one side of the car to the other, and from front to back. 
For example, if your tires are currently positioned as follows:
– Front left
– Front right
– Rear left
– Rear right
After a cross-rotation is performed, your tires would reside in the following positions:
– Front right
– Rear left
– Front left
– Rear right
As you can see, this helps to even out the wear on your tires. Over time, tires tend to develop flat spots from sitting in the same position for too long. Flat spots can cause temporary or permanent ride quality issues, which can negatively impact other components on your vehicle. Rotating your ride's tires regularly helps to prevent this from happening completely.
There are a few other benefits of regularly rotating your tires, in addition to what is mentioned above. For example, it can help improve your vehicle's gas mileage. This is because evenly-worn tires provide glide more easily on the roadway, which equates to less overall physical resistance and improved fuel efficiency. Additionally, it can help contribute to improving the handling, stability, and safety of your vehicle.
If you're not sure how to rotate your tires, don't worry – it's actually quite simple. In most cases, all you need is a jack and a lug wrench. You can find step-by-step instructions in your car's owner's manual, or you can ask a professional at your local auto shop.
There you have it – everything you need to know about tire rotations. By following these simple tips, you can help extend the life of your tires and keep your car running smoothly for years to come. Thanks for reading!
Post tagline:
SimpleTire is an online tire store providing tires for everything from Lamborghini Aventadors to Lamborghini Tractors. SimpleTire makes it easy to buy tires online with their SimpleTire App, helping consumers identify the best replacement tires for their vehicles. Order tires from your phone or device and have them sent to your home or installer for ease of installation and convenience. Shop for new tires online at www.simpletire.com