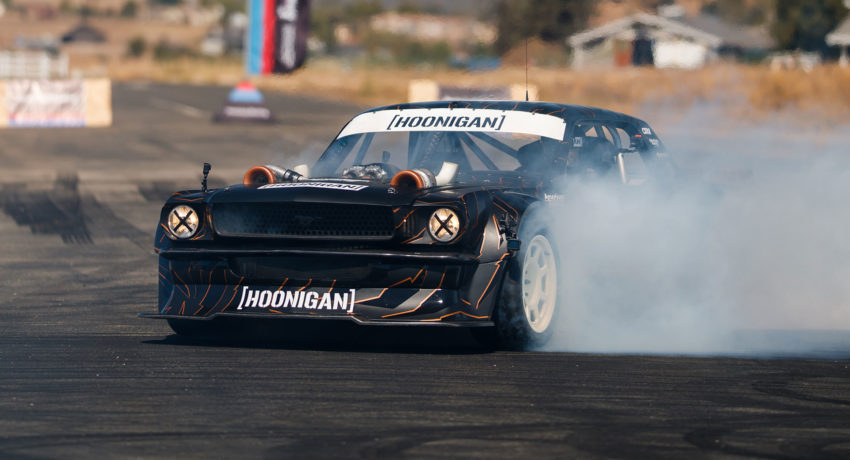 While Ken Block is no longer driving around in a fleet of extensively modified Fords after inking a contract with Audi, that doesn't mean his 14-year-old daughter can't enjoy one of her father's most iconic cars, the Ford Mustang 'Hoonicorn.'
This custom-built Mustang was originally created for the Gymkhana series and over the last year, it has been featured frequently on Hoonigan's YouTube channel. It was raced against a drag car from the NHRA C6 Corvette for a number of races.
Watch Also: Four-Rotor Mazda RX-7 With GT-R AWD System Tries To Keep Up With Ken Block's Hoonicorn Mustang
[embedded content]
The Hoonicorn is powered by a twin-turbocharged V8 churning out 1,400 hp that's coupled to a six-speed Sadev transmission with paddle shifters that drives all four wheels. The Corvette is located in the opposite corner. It has a huge 8.6-liter HEMI engine with an enormous supercharger, and a 3-speed transmission. Although it is rear-wheel driven, the Corvette produces a staggering 4,000 horsepower.
A prepped drag track allowed this Corvette to race down the eighth mile in a mere 3.5 seconds. It was able to do it at a stunning 212 mph (341 km/h). However, Hoonigan's runway isn't prepped and putting all 4,000 horses to good use is no easy task.
In the first race, Block's daughter Lia jumps the start and takes an easy victory. Things heat up during the second race. The duo race almost identically. While the Hoonicorn is less powerful, it stays with the Corvette the whole race. Only losing by one bumper This race, unlike the others, was over 1,000 feet and it is better.
PHOTO GALLERY
more photos…
Adblock test (Why?)