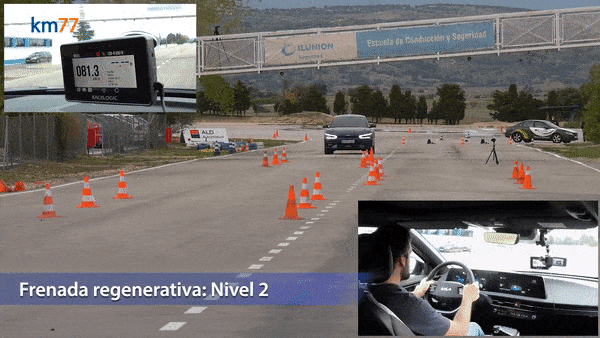 South Korean automaker Kia EV6 considers the Kia EV6 a key vehicle. As this test reveals it can do very well at the infamous moose-test.
Like the Hyundai Ioniq 5 and Genesis GV60, the Kia EV6 uses the group's Electric-Global Modular Platform (E-GMP) and is offered in a number of different guises. For its test, km77 got its hands on Europe's EV6 GT-Line model, which is the equivalent of the Long Range RWD sold in the U.S. with a 77.4 kWh battery pack and a single 225 hp electric motor.
Learn More: The Guinness World Record Holder for The Fewest Hours Charging While Driving across the USA by Kia, EV6
The initial attempt to move through the cones at an 80 km/h speed (49.7 mph), was unsuccessful. Although the EV6 did a good job and was simple to handle, some of the cones were thrown over.
The speed was decreased to 78 km/h (58.5 mph) then the EV6 ran flawlessly through these cones. Importantly, this test involved the car's regenerative braking system being activated in its 'level 2' setting, helping the car to wipe off some speed during the test. The Kia was able to hit several cones after the regenerative brake was disabled.
Kilometer77 tested the Porsche Taycan Turbo S last year at a speed of 78km/h. The EV6 did well in this test, even though it didn't use regenerative braking.