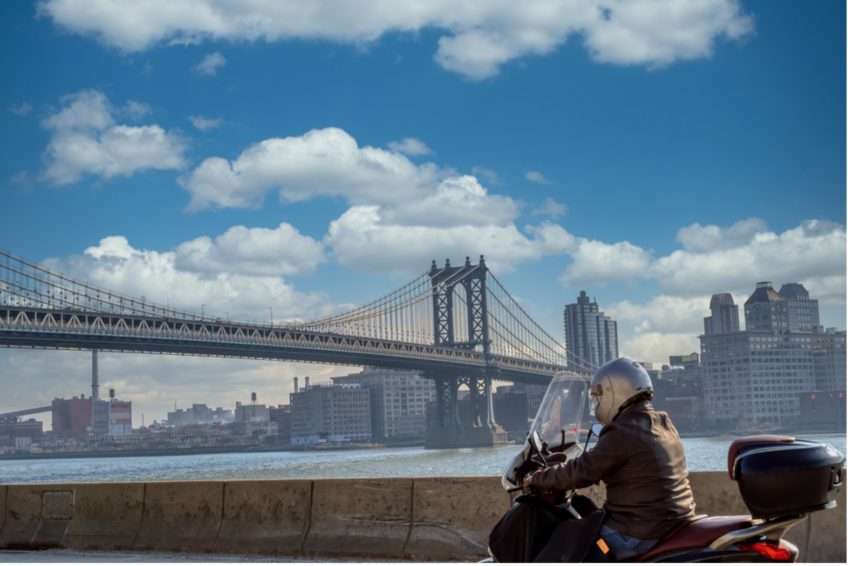 With summer weather and the increase of motorcycle riders on the roads unfortunately come an increase in the number of motorcycle accidents. Contrary to popular belief, our NYC attorneys know that often motorcyclists are not at fault for accidents. They are also significantly more likely to be seriously injured in a crash than a car or truck driver.
Motorcycle and Pickup Truck Crashed
This was the case on Friday night when a motorcycle and pickup truck crashed. "The pickup, a blue 2008 Chevy Avalanche, turning left across traffic to reach the on-ramp when the motorcycle headed in the opposite direction slammed into the passenger side," reports the ABC7NY.
The motorcyclist and driver were both taken to a local hospital; the rider was later airlifted to a larger hospital due to serious injuries. The motorcyclist was not wearing a helmet and alcohol does not appear to be a contributing factor in the collision. The driver was cited for failure to yield while making a left turn, which is likely why the motorcyclist hit the passenger side of the truck as the driver was making a left turn.
Extreme Caution Particularly During the Summer Months
Our New York personal injury attorneys encourage all motorists – riders and drivers alike – to exercise extreme caution particularly during the summer months when motorcyclists take to the roads in increasing numbers. Because motorists may not be used to sharing the road with riders, sometimes they are not aware of a rider in their blind spot or do not yield properly to motorcycle traffic. Exercise caution and avoid distracted driving at all times.
The team of NYC personal injury lawyers at Vacardipane & Pinnisi encourages motorcyclists to also take caution by driving defensively and always wearing a helmet. If you or a loved one are the unfortunate victims of a motorcycle accident, do not hesitate to contact a personal injury attorney right away. We can help you receive compensation to help pay for your medical bills, lost wages and pain and suffering.
Author
Dawn M. Pinnisi is a Managing Partner of the Firm.  She was born and raised in Brooklyn and attended Brooklyn Law School.  Ms. Pinnisi predominantly handles professional Malpractice in New Jersey on behalf of victims of motorcycle accidents.  She has twenty years of litigation experience advocating for injured clients and has recovered millions of dollars in jury verdicts, settlements, arbitrations, and mediations on behalf of injury victims.