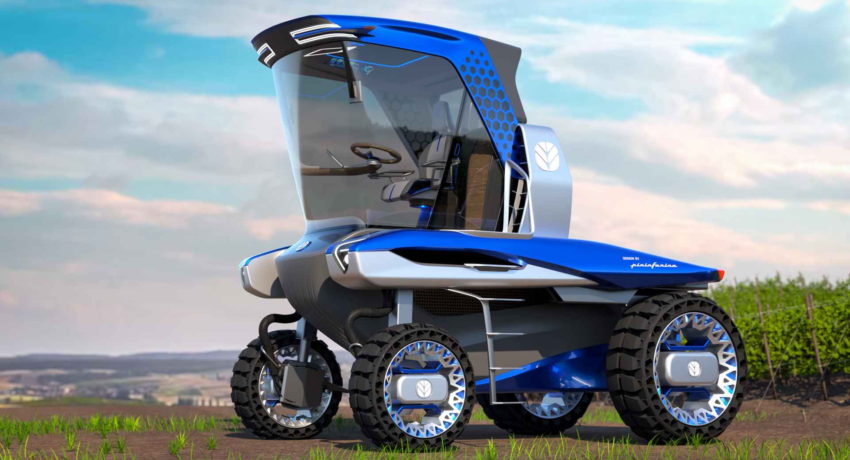 Here's a new thing I learned today: vineyards are often too narrow for traditional tractors. Here's another thing: New Holland and Pininfarina are working together on a tractor to solve that.
This Straddle Tractor Concept was designed to work on slopes where vines grow less than half an meter (1.66 feet) apart.
Grapes are usually picked manually in these regions. Most of the work on vines here is performed by a tractor, which travels between rows. For its tractor, though, Pininfarina developed a futuristic design that centers around high comfort, high safety, and the possibility of electric propulsion thanks to New Holland's "Clean Energy Leader" strategy.
Read Also: How About A Classic Lamborghini Tractor To Go With Your Miura?
The tractor's shape is reminiscent of a champagne flute. It measures approximately 7.5 inches in height and has a tapering bottom. This refers to the area it will be serving. The tractor's shape is also very visible to the operator, thanks to the abundance of glass. Easy entry and exit are made possible by the large door and rotating seat. The cabin's wood trim is an ode to wine barrels that were used for ageing.
"Our ground-breaking straddle tractor concept offers a glimpse into the future that premium wine growers with narrow, high-value vineyards can aspire to," said Carlo Lambro, New Holland brand president. "It is the result of New Holland's long history of excellence in vineyards across the world, combined with the inspired innovation of legendary design house Pininfarina."
The concept was unveiled at the SITEVI 2021 fruit, wine and olive farming expo. It is an indication of one direction that New Holland intends to go in the future.
PHOTO GAMERY
more photos…