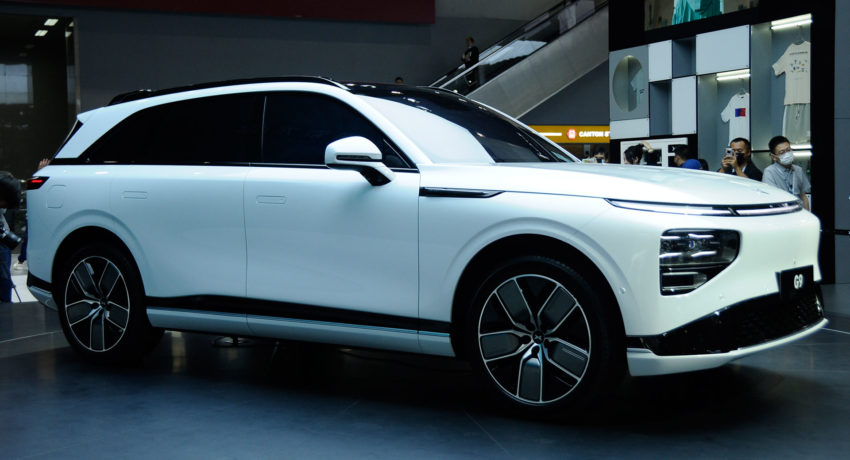 XPeng has taken its globalization strategy to the next level with the introduction of the G9 at Guangzhou Auto Show.

Billed as the company's first model to have been "conceived and designed from the outset for both domestic Chinese and international markets," the G9 is a flagship SUV that is compliant with Euro NCAP "5-star safety design standards" as well as "stringent EU WVTA vehicle certification standards."
Putting aside XPeng's European ambitions, the G9 is a sleek looking crossover that features an evolutionary front fascia. While the design is instantly recognizable, it's notable for having two LiDAR sensors located beneath the headlights.
You can also read: XPeng unveils the G3 Facelift, also known as The G3i
Further back we see sleek bodywork and flush-mounted handles on the doors, as well as aerodynamic 21 inch wheels. This model has an elongated shoulder and reminds me of the Kia Sorrento. Another highlight is the panoramic glass roof, and the black windows surrounds which run all the way to the rear pillar.
G9's elegant styling extends backwards. It features a sleek rear end and a slim LED light bar. There's also a spoiler and a bumper with a gloss black accent.
XPeng wasn't forthcoming with details, but they confirmed that the new XPower 3.0 engine is in the vehicle. A five-minute charge of 800V will give you 124 miles (200km) of range.
They also announced that G9 will be the first model to feature the semi-autonomous driver system XPILOT 4.0. The model also features the previously mentioned LiDAR sensors. It has an 8million pixel front camera, and 2.9million pixel side cameras. Thanks to these various cameras and sensors, the G9 is able to offer "full-scenario assisted smart driving from vehicle start-up to parking."
PHOTO GALLERY
more photos…