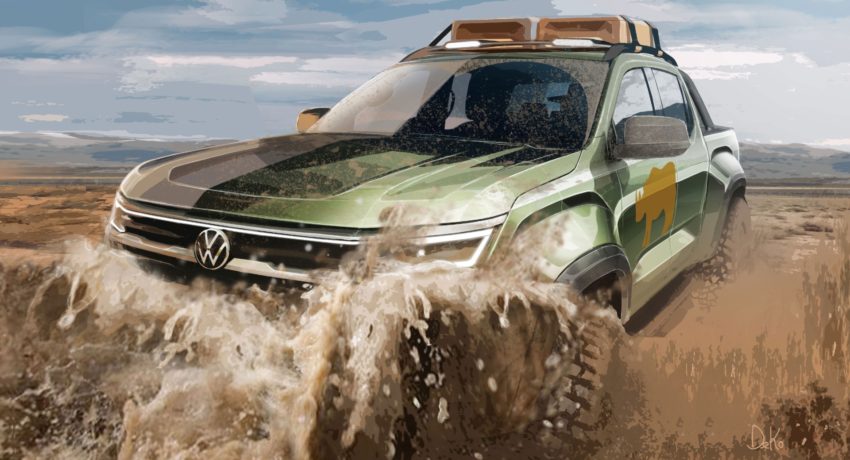 Volkswagen published a new teaser about the Amarok, including interior sketches and exterior renderings. The company also confirms that it will unveil in 2022 from a South Africa-based production plant. The official sketches are following earlier teasers from March 2020 and from March 2021, showing a slightly evolved design that is closer to production.
Although the all-new VW Amarok shares its foundations with Ford Ranger, it will have a unique design. While the hardpoints and the greenhouse will be identical between the two popular pickups, the Amarok will feature unique body panels adopting Volkswagen's own design language.
The headlights at the front are embedded within the grille and connected via an LED strip. Meanwhile, the rugged pickup's muscular bonnet and muscular fenders add a rough feel. In the latest teaser, the Amarok is depicted with off-road tires and extra equipment on the roof as part of the Wilderness Foundation Africa (WFA) campaign for rhinoceros protection. The outgoing model has been assisting in the same role for wildlife preservation in South Africa since 2011.
See Also: 2023 VW Amarok Spotted Testing At Ford's Proving Grounds In Michigan
This second sketch shows the interior in its entirety. Although there are many similarities between the Ranger and this digital cluster, some differences can be seen such as the VW steering wheel and the redesign dashboard that has large storage areas and the trim around the seats.
VW is proud of the off-road capabilities of the new Amarok saying that it will "Not be deterred by any rough terrain". The company also claims that the new generation will "feature innovations that have not been seen before in this segment", together with "significantly more driver assistance systems".
This pickup was created by European and Australian teams. The Amarok's predecessor was made in Hannover Germany. This new pickup will be manufactured in Silverton, South Africa, and continues to be built at Pacheco (Argentina). Europe will be the first market to see it, with other countries following in 2022. More than 800,000 Amaroks have been sold since its inception in 2010.
PHOTO GALLERY
more photos…