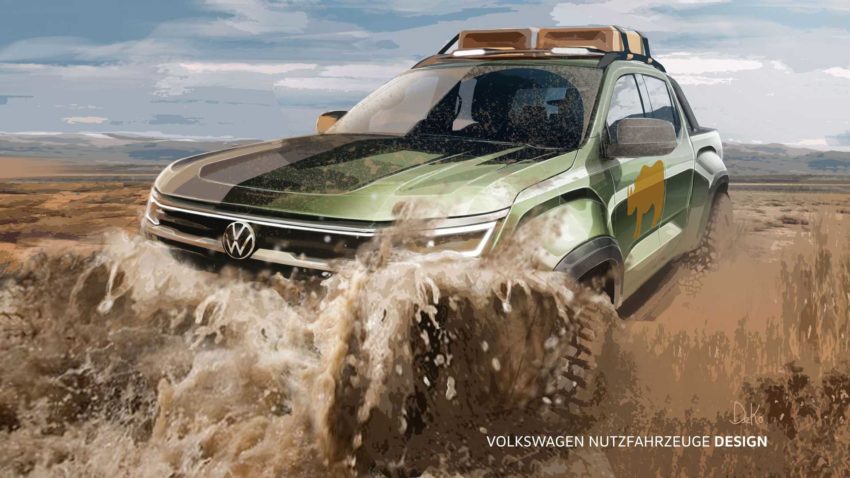 Ford unveiled the worldwide version of the redesigned Ranger in November. The model will go on sale next year in the U.S. as a 2023 model.
A new Volkswagen Amarok with its T6 body-on frame platform and the Ranger will form the foundation of the 2020 Ranger.
On Wednesday, prototypes were seen for both the Amarok (VW) and VW. These sketches provide a hint that the debut may be near.
According to teasers, the Amarok's new badge will be more than just a Ranger-style badge. The two pickup trucks of medium size are likely to have similar designs for their doors. The teasers show that the grille and headlight treatments will differ between the models.
Teaser for the 2022 Volkswagen Amarok
New Ford Ranger (Global model)
Interiors for both models are also unique, although it seems like the Amarok's interior will be a portrait-style screen with infotainment just like the Ranger.
The powertrains of both pickups must be used together. These pickups should share turbocharged, inline-4 and V-6 powertrains. Some markets may also have diesels. A 6- to 7-speed manual will be the standard, while a 10-speed auto is available.
Ford plans to build the Amarok in South Africa for VW. However, it has not been confirmed that the pickup will go to South America, Europe, and Africa. VW would have to import the Amarok to get around the 25% Chicken Tax. If the Amarok is sold in the U.S., it makes perfect sense.
Ford launched an overseas Tourneo van, based on the latest Caddy model in return for manufacturing and developing the Amarok. Ford also has the MEB modular-electric-vehicle platform licensed by VW Group. Ford plans to use this platform for one or several EVs that will be sold in Europe. The first, a compact crossover, is expected in 2023.