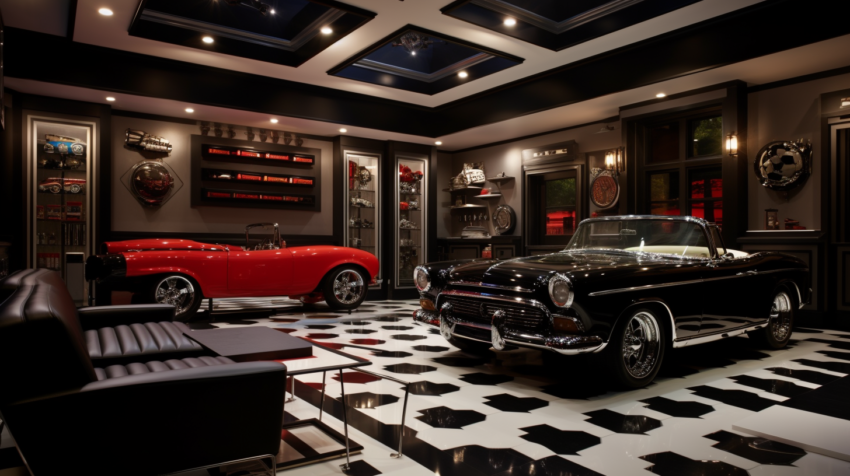 Building a cool man cave in your garage can be a fun job that adds value to your home and gives you a place to relax and have fun. Using some thought and a little imagination, you can turn this useful area into an inviting guy cave.
1. Rustic Sports Bar
Create a sense of community by making your garage a country sports bar. Install a bar table made of salvaged wood with a nice, worn finish. Put framed shirts from your favorite teams and old sports items on the walls. Add soft chairs and hanging lights that give off a warm, welcoming glow to go with the bar. This set-up makes for a great place to watch games with friends while drinking cold drinks and cheering loudly.
2. Gaming Paradise
If you love video games and online experiences, consider making gaming heaven. Set up the room with soft couches or game chairs to make long gaming sessions comfortable. Set up a big TV or projector to make the game feel more real. Add gaming devices, a collection of games, and a good sound system to improve the experience. A mini-fridge full of drinks and snacks will let you play games for hours without stopping.
3. Automotive Haven
The garage man cave can also be a safe place for people who love cars. Use wall-mounted displays and good lighting to highlight the beauty of your prized cars and show them off. Add to the car theme with pictures of old cars, mechanic tools used as art, and a well-organized place to store tools. This space will give you a place to relax where you can work on your cars or enjoy the world of cars.
4. Cigar Lounge
A classy cigar bar is a great way to relax. Set aside an area for a well-stocked cigar station with a case to keep your cigars in good shape. With soft leather couches and low lighting, you can make the space feel like a place of refined luxury where you can relax with a fine cigar.
5. Home Theater Retreat
Make your garage into a home theater to watch movies without leaving your house. Install a big projection screen or a high-definition TV as the focal point. Add surround sound speakers to improve the audio and video experience. You and your friends will feel like they are in the movie when you have comfy chairs that recline or seats like those in a theater. Use old movie posters to decorate the walls for a touch of real theater memories.
6. Fitness and Wellness Hub
Make your garage a place to work out and relax that helps you reach your health goals. Set up a space just for working out by putting down rubber flooring and filling it with weights, bikes, and yoga mats. Make a place that makes you feel better by adding a sauna, steam room, soothing lighting, and art. This guy cave will help you care for your body by giving you a quiet place to stay fit and calm.
You can do many creative things to turn your garage into an interesting man cave. The key is to make sure the style fits with what you care about. By carefully choosing things that show off your personality, you can create a space that is both a place to relax and a reflection of who you are. So, get your hands dirty, use your ideas, and start the fun process of making your ultimate man cave.