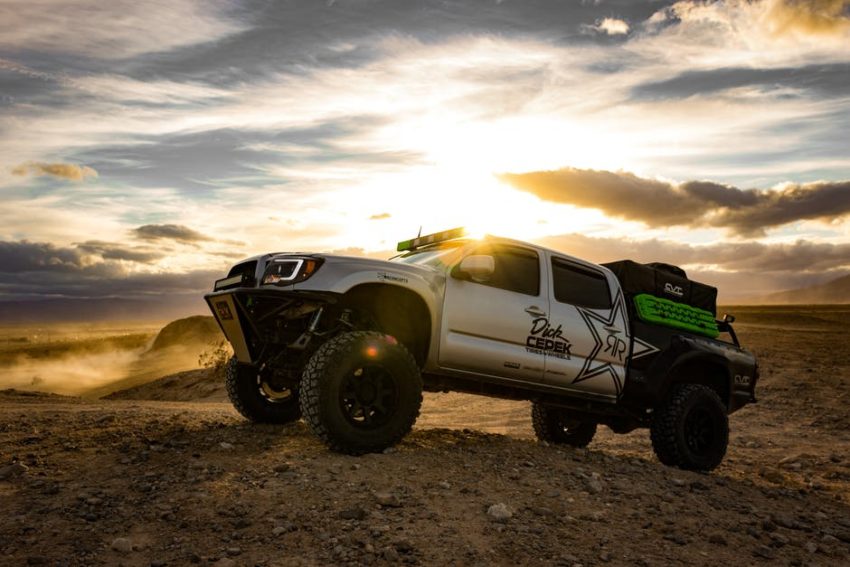 There are over 3 million professional truck drivers in the United States, and that doesn't even count all the people who just own a truck for recreational reasons.
If you're interested in purchasing a new vehicle, you might wonder about your options. So, why not invest in a truck?
Let's go through the top reasons you should consider buying a truck.
1. Start Off-Roading
If you enjoy exploring nature and venturing off the beaten path, owning a truck can be an excellent choice. 
Off-roading often involves traversing challenging terrains like mud, sand, rocks, or steep inclines.
A truck with four- or all-wheel drive capabilities provides better traction and control, distributing power to all wheels and improving off-road performance. Look for trucks with selectable 4WD modes, locking differentials, and low-range gearing.
A truck with specialized off-road suspension can better handle the rigors of off-roading. Look for features like heavy-duty shock absorbers that provide better articulation and absorb impacts. These will help ensure a smoother ride on uneven surfaces.
2. Carry a Lot of Stuff
The primary advantage of a truck is its cargo bed, which provides ample space for transporting a variety of items. Whether it's furniture, appliances, construction materials, gardening supplies, or recreational gear, the open bed design allows you to load and secure items easily.
The size of the cargo bed varies depending on the truck model. So, you can choose a truck with a bed length that suits your needs.
In addition to the cargo bed, trucks excel at towing heavy loads. They are equipped with powerful engines, robust frames, and towing packages. This allows them to haul trailers, boats, campers, or other large items.
If you anticipate the need for towing, look for trucks with higher towing capacities. You should also search for towing features. These include things like trailer sway control and integrated trailer brake controllers.
3. Stay Safe
Trucks often offer enhanced safety features due to their larger size and robust build. They typically have advanced safety technologies.
Examples include collision warning systems, lane departure alerts, and robust braking systems. Additionally, their higher seating position provides better visibility of the road.
In addition to the truck's safety features, the larger size of trucks can be beneficial. Their larger size can provide increased protection for passengers during collisions. The sturdy construction and reinforced frames of trucks contribute to their safety record.
4. Keep Comfortable
Modern trucks often come with spacious and comfortable interiors. This offers plenty of legroom and seating for both the driver and passengers.
Look for trucks that offer ample headroom, legroom, and shoulder room for both the driver and passengers. A roomy interior allows for more comfortable seating positions. That's especially true during long drives.
Opt for trucks with adjustable seats that provide various customization options. These include things like lumbar support, height adjustment, and tilt functions. You'll be able to find a comfortable driving position tailored to your preferences.
Trucks with sound-deadening materials, insulation, and vibration-reducing technologies offer a quieter cabin environment. This reduces fatigue and enhances overall comfort, especially during extended periods of driving.
If you're unsure how to find the best truck companies, you might want to check out the Ford dealership located here.
5. Make Your Job Easier
Trucks are widely used in various industries due to their utility and versatility. Contractors, landscapers, and tradespeople rely on trucks to transport tools, equipment, and supplies to job sites.
The spacious bed can be customized with toolboxes, racks, and compartments. These optimize the storage and organization of work-related items.
Trucks typically have a higher ground clearance. This makes accessing job sites, construction areas, or rough terrains easier. Additionally, features like tailgate steps, side steps, or running boards facilitate easier entry and exit from the truck, saving you time and effort.
A well-maintained and branded truck can contribute to your professional image. Custom graphics, signage, or company branding on your vehicle can help promote your business. This will help create a professional impression when on the job.
6. Accommodate Your Family
Trucks are not limited to work-related purposes. Many families choose trucks. You can load up the bed with camping gear, bikes, or sporting equipment, while still providing comfortable seating for family or friends in the cab.
Many trucks now offer extended or crew cab configurations, providing ample seating for both the driver and passengers. These cabs typically have rear seats that can comfortably accommodate children and adults. These make them suitable for family outings.
Many trucks now come equipped with advanced infotainment systems. These systems allow passengers to connect their devices, play music, and make hands-free calls. You can add rear-seat entertainment systems to keep children entertained during long journeys.
7. Customize Your Vehicle
Trucks offer lots of different options for personalization and customization. Add a unique touch to your truck's appearance with vinyl wraps, decals, or custom paint jobs. You can use these to reflect your personality or showcase your favorite designs.
Consider adding features like seat heaters, upgraded sound systems, or navigation systems to enhance your driving experience.
Personalize your truck's interior with accessories like custom seat covers or floor mats. To get even more advanced, try interior LED lighting, upgraded sound systems, or touchscreen displays.
Buying a Truck: Start Today
There are many reasons you could want to invest in a brand-new truck. Hopefully, you now have some understanding of the many benefits.
Do you want to discover more about other automotive topics? Read through some of our other exciting blog posts for lots of other information about different vehicles.