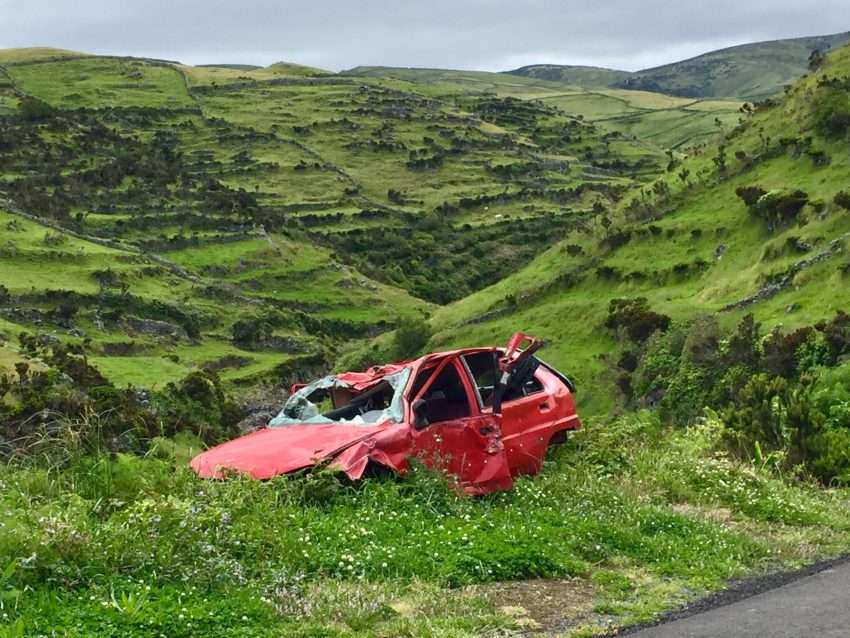 Getting into a car accident is a scary and stressful event. Even if the accident is minor, it can still be a very jarring experience. So, it's important to be aware of what to do if you get into an accident ahead of time.
Here's what you should do after a car accident to ensure everyone's safety and help the claims process go as smoothly as possible.
1.    Get to a Safe Place
The first thing you should do is pull your car over to a safe, well-lit location – if possible. Preferably, you should find a spot on the shoulder of the road or a nearby parking lot. Once you're in a safe location, turn on your hazard lights to ensure oncoming traffic sees you.
If the crash is severe or if it would be unsafe to move your car, then stay where you are and call 911. In this case, you should remain inside the vehicle until help arrives. Again, be sure to put your hazard lights on so that other drivers will know to be careful around you.
2.    Check for Injuries
After ensuring that you're in the safest possible place, the next thing you should do is determine if anyone is injured. Start by checking on yourself and then move on to any passengers in your vehicle.
It's also important to check on the occupants of the other vehicle(s) involved in the accident. However, keep in mind that you should not apologize or admit fault at this – or any other – point. If you do, it can be used against you when it comes time to file an insurance claim or car accident lawsuit.
If someone is injured, call 911 right away.
3.    Collect Information
Once you've ensured everyone is okay, it's time to start exchanging personal information with the other driver(s) involved. You should exchange:
Names
Phone Number
License Plate Number
Insurance Company Name & Policy Number
If the other driver(s) refuse to give you this information, consider calling the police and getting a lawyer. You should also try to get the contact information of any witnesses to the accident. These people can provide valuable testimony if there are any disputes about what happened later on.
4.    Take Pictures
If you have a camera or smartphone, take pictures of the accident scene. You'll want to take photos of the damage to all vehicles involved and any visible injuries.
In addition, be sure to take pictures of the surrounding area. This includes taking photos of skid marks, traffic signs, and road conditions. These photos can help prove how the accident happened and who's at fault.
5.    Request the Accident Report
If the police come to the scene, they will likely file an accident report. This report can be helpful when filing an insurance claim. It can also be used to help your personal injury lawyer build a strong case if you decide to file a lawsuit.
In most states, you can request a copy of the accident report by contacting the police department that responded to the scene. You may have to pay a small fee for a copy of the report. However, it's well worth it if there is any dispute about what happened.
6.    Contact a Car Accident Attorney
If you or a loved one was injured in the accident, it's important to speak with an experienced personal injury lawyer as soon as possible. The lawyer can help you recover compensation for your medical bills, lost wages, and other damages.
In addition, a lawyer can negotiate with insurance companies on your behalf. This is important because insurance companies are often more interested in their own profits than paying out fair settlements.
7.    Tell Your Insurance Company
Finally, you'll need to file an insurance claim. If you skip this step, you will be liable for all of the damages out of your own pocket.
To file a claim, you will need to contact your insurance company and provide them with all the information about the accident. This includes the police report, photos, witness statements, and your personal account of what happened.
The insurance company will then investigate the accident and decide whether to pay the claim. If they deny the claim, you may need a lawyer to help you appeal the decision.
Wrap Up
No one ever wants to be in a car accident. However, it's important to know what to do if you are involved in one. By following the steps above, you can protect your rights and give yourself the best chance of getting the compensation you deserve.
Author Bio:
Samuel R. Carl is the co-founder of Midwest Injury Lawyers, a full-service personal injury law firm that specializes in serious accidents involving car accidents, bike accidents, nursing home abuse, medical negligence. With over 10 years of experience in the personal injury law field, Sam spent years protecting the rights of injured victims and their families, securing millions of dollars for his clients through jury verdicts and settlements.