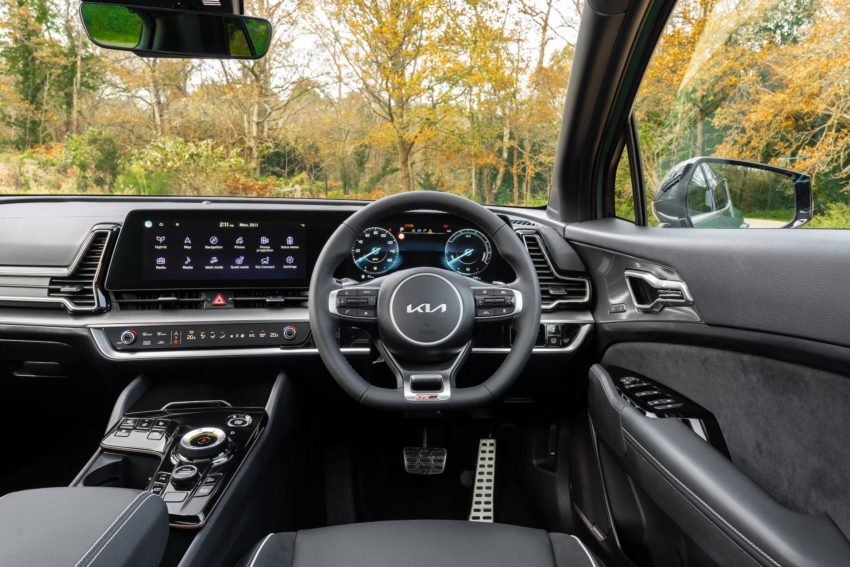 The U.S. Kia dealer is busy selling the Sportage, which debuted in 2015. It will be available as an 2022 model from now until the 2023 Sportage arrives in early 2019. However, you can buy a brand new Kia compact SUV in Europe with the Sportage badge.
Showcasing a striking front-end design, kicked-up waistline and sporty rear styling that really amps the aggression, the European-spec 2022 Sportage also features a dramatically improved interior and is now available to order in the UK for £26,745.
That money buys an entry-level '2' grade Sportage with a 148 hp 1.6-liter petrol engine, though if that doesn't tickle your fancy there are four other trim levels and four more engines to choose from.
Related: The 2023 Kia Sportage is Detailed for America with New Rugged-Looking Models X, A Hybrid Is on the Way
Crossing your dealer's palm with another £1000 swaps the 1.6 T-GDi petrol for a 113 hp 1.6 CRDi diesel, still matched to the entry level '2' trim, while other Sportage options include 48-volt mild hybrid version of both the petrol and diesel engines and a choice of six-speed manual or a seven-speed dual-clutch transmissions, plus the option of all-wheel drive on higher trim levels.
At the far end of the Sportage line, and coming in at over £40,000 in its ultimate specification, is the new Sportage Hybrid. A conventional hybrid, rather than a PHEV, it starts at £33,245 in GT-Line trim with a six-speed automatic sending 226 bhp to the front wheels. That rises to £38,645 for the GT-Line S, again in front-wheel drive configuration, or you can upgrade to all-wheel drive for £40,245.
Kia plans to add a 261 hp PHEV in the latter part of 2022. However, it has not yet planned for an all electric version. This is due to the fact that the EV6 crossover already plugged that gap. For the U.S. it will keep the current model but, in 2022, will be given a modified version of the Sportage, which was launched recently in Australia.
PHOTO GALLERY
more photos…
Adblock Test (Why?)