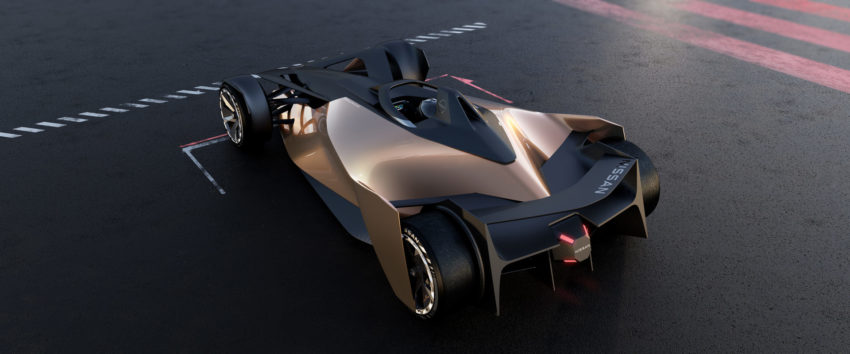 It is the Nissan Ariya Single Seater Concept. This shows the potential of the Ariya SUV's all-electric powertrain.

This unique idea was presented at the Nissan Futures event by Alfonso Albaisa, senior vice president of global design for Nissan, and Juan Manuel Hoyos (general manager, global marketing, brand and engagement for Nissan), respectively.
See also: Order books of 2023 Nissan Ariya now available, starting from $47.125
Nissan states that Ariya Single Seater Concept draws on Timeless Japanese Futurism design language. It then combines it with a custom single-seater racing car chassis. The front-end immediately stands out thanks to the illuminated 'V' motion signature. The concept also features an aerodynamic rear and front wheel cover, as well as exposed suspension parts. It borrows its striking bronze color from Ariya, which is a road-going Ariya.
Lightweight carbon fiber was used to construct the body. Nissan also stated that the Ariya Single Seater Concept is inspired by its involvement in Formula E World Championship.
"We are delighted to present the Nissan Ariya Single Seater Concept from our Nissan Futures event," Hoyos said during the event. "At Nissan, we dare to do what others don't. With this concept we want to showcase the high-performance potential of the Ariya's powertrain in a motorsports-inspired package that not only hints at the design and styling of the road car that inspired it, but that also demonstrates a new and efficient EV performance language. Acting as a testbed for future technological evolution, this project can help bring excitement from the road to the race track, and also demonstrate Nissan's expertise in transferring knowledge and technology from the race track to the road."
"As we began to shape our Nissan Ambition 2030 long-term vision, we continued to build on our Timeless Japanese Futurism design language," added Nissan design chief Alfonso Albaisa. "We are now drawing inspiration from the Japanese words shun, meaning to run fast and effortlessly, and sho, meaning to soar with power and grace. This new language is best expressed in the Ariya Single Seater Concept. Leveraging the Ariya's EV powertrain in a motorsports-inspired package allowed our international team to capture this new sense of speed, technology and artistry."
PHOTO GALLERY
more photos…
Adblock test (Why?)