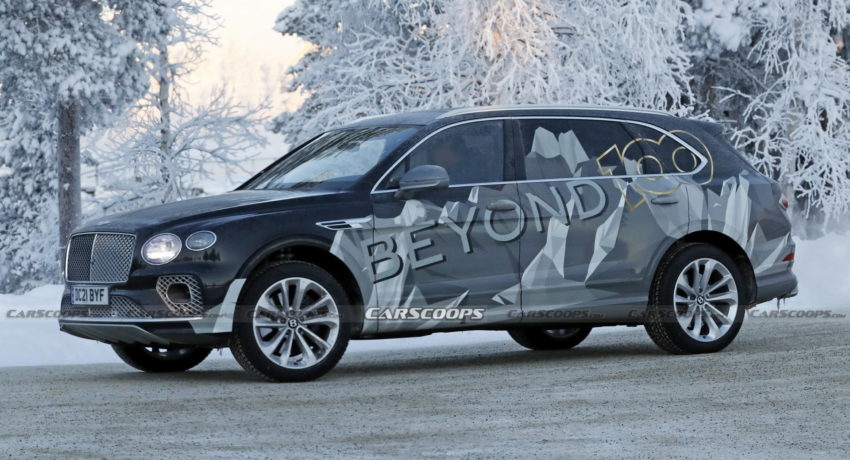 Did you recall when Bentley tried a longer wheelbase Bentayga SUV on public roads? It seems so far ago, but British luxury brand Bentley brought back the model to be tested on public roads.
Caught testing on snowy streets, the test car is sporting familiar camouflage with Bentley's "Beyond 100" branding on it that we last saw a little under a year ago. The back doors, once again, look much longer than the existing Bentayga's suggesting that this model will offer even more room to rear-seat passengers.
It looks very similar to other Bentayga SUVs, which is understandable. We would expect this model to follow the "Extended Wheelbase" nomenclature set by the Mulsanne EWB.
Read More: Bentley To Make The Bentayga Even Roomier With Extended Wheelbase Variant
What's inside remains a mystery, but we wouldn't be surprised to find a set of ultra-luxurious reclining rear seats for the well-heeled owner to rest in while being driven to wherever it is rich people go. While vehicles with extended rear door openings are very popular in China, Mulsanne's passing left a gap in the market that could allow for this model to exist in other markets.
The Bentayga standard is 203.3 ins long. Expect this new variation to be even more spacious. It isn't likely that there will be a seven-seater option.
What's under the hood is also unknown to us at this point. Bentley already has both a V8 and W12 engine, which is likely to be what powers the big Bentayga. The Beyond 100 wrap does make us wonder if a hybrid version will be offered, though there is no obvious charging port to suggest that this one is a plug-in hybrid.
Though the Bentayga EWB was originally scheduled to go on sale at the beginning of next year, testing has shown that this date may be being moved back. While there are no details on why this vehicle may be delayed or delayed, it seems that the ever-disruptive shortage of microchips is a solid bet.
PHOTO GALLERY
more photos…
Photo credit: CarPix, Carscoops