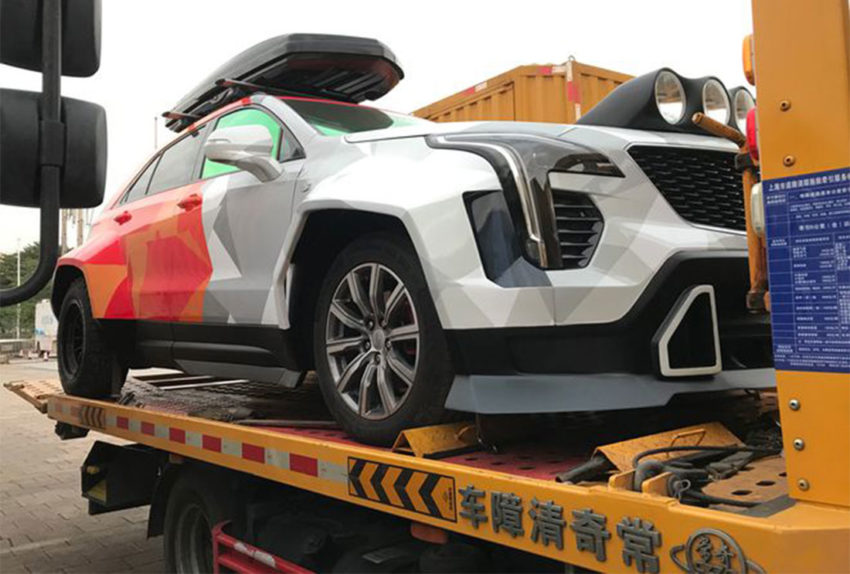 Cadillac's XT4 special show car has been created and will be presented in China at 2021 Guangzhou Auto Show.
Auto.163 recently posted images of the vehicle. The vehicle is being called the XT4 Snow Country Train Edition. It has undergone extensive modifications. It is unlikely that it will be a production model but it is still cool.
Its bold, camouflage-inspired wrap in orange, white, grey and red is what first stands out. The XT4 has a revised front fascia that features a distinctive front splitter as well as LED lights. These are very similar to RTR Ford Mustang models. The hood also features four rally-inspired driving lamps.
See also: Cadillac XT4 makes a European debut with a 172 horsepower diesel
The XT4's special widebody kit makes it appear incredibly aggressive. You can find a pair of black wheels covered in BF Goodrich ALL-Terrain A tires at the rear. While the front still has the regular rims but they are likely to have been installed during transport and should be exchanged for the same tire and wheel package. A Thule roofbox and roof rack complete the modification.
As pointed out, the "28T" badge on the rear indicates that the XT4 is equipped with a 2.0-liter turbocharged engine that delivers 233 hp (174kW). We don't know if Cadillac modified its SUV in any way, but we are expecting to find out more information at this weekend's Guangzhou Auto Show.
PHOTO GALLERY
more photos…
Adblock Test (Why?)