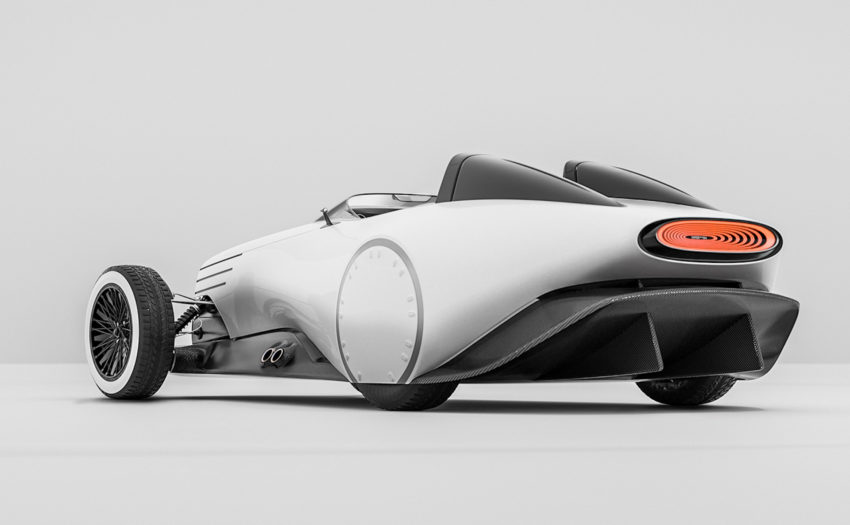 The current Caterham Seven can trace its ancestry right back to Colin Chapman's original Lotus sports cars built in Britain in the 1950s.
But it's the hot rods that were pounding down dry lake beds across the Atlantic at the same time that shape this reinterpretation of the Caterham from Camal Studio, the design team behind the bizarre Ram-based Palladium sedan-cum-truck.
Called the Super**GA, it's based around the hardcore Caterham 485 chassis and powered by a 2.0-liter naturally aspirated ford Duratec engine developing 240 hp. The radical redesign does an excellent job hiding the donor car.
Camal retains the Caterham's open-wheel front axle that exposes the full double-wishbone suspensions setup, but ups the wheels to 20-inches, adding whitewall tires and dispensing with the Seven's arches for maximum effect. A neat trick to the front light units is that they sprout from the wheel wheels. The large square grille opening, however, is also covered by a lightbar.
Related: Camal's Bermat GT Is A New Italian Sportscar With A Track-Only Pista Variant
The rear wheels, however, are completely enclosed in a wide expanse of bodywork. A giant carbon-fiber undertray ties the nose and rear together, while side exit tailpipes poke out from the back. As a massive diffuser, the carbon undertray appears at the back as an enormous diffuser. The two fins of this undertray are mirror images by the twin braces on the rear deck. An oval unit with concentric rings is located between them.
Vault over the side (as with a Seven there are no doors) and you're presented with a tiny speedster screen that Camal admits is there just for aesthetic effect, meaning you'll likely need a helmet to have fun at any serious speeds. The "total screen" dashboard features a pair of digital dials and a much larger digital display that looks like NASA technology compared with what you get in a regular Seven, but the real talking point is the semi-transparent transmission tunnel giving occupants a view of the gear shift mechanism and NOS bottle contained within.
Currently, the Super**GA exists only as a series of digital renders, but Camel says it has been conceived for limited series production, envisaging that a finished car would cost €300,000 ($339,000) plus taxes. That's some serious markup on a Caterham Seven and we doubt you'd have more fun driving it, even if it is more fun to look at.
PHOTO GALLERY
more photos…
Adblock Test (Why?)