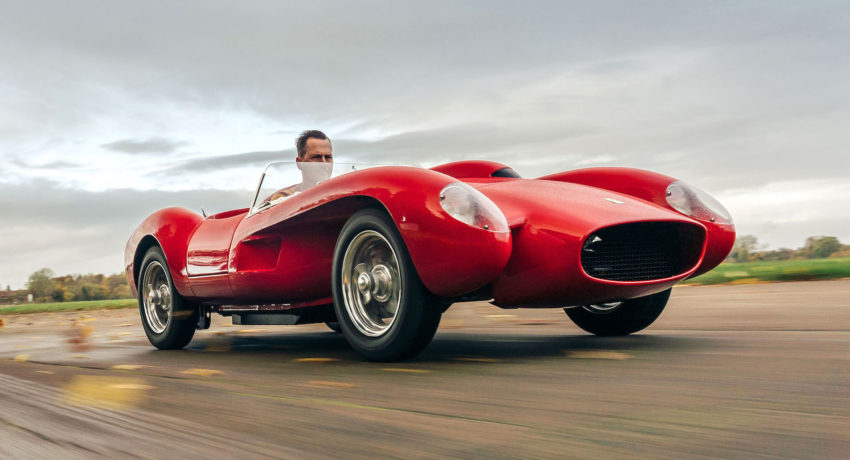 From terrible sneakers to cheap pens, Ferrari has put its name to plenty of dodgy 'lifestyle' products over the years, many of them undermining the luxury credibility of the brand.
But this gorgeous Testa Rossa J we've just driven isn't one. It's also not cheap. At €93,000 (about $105,000), this 70 percent scale 'toy' costs as much as a real luxury sports car, such as a Porsche 911. But on the flipside it's also a hand built, fully drivable limited edition Ferrari for half the price of the next most affordable car in the range, the Portofino M.
The Testa Rossa J, though it's a Ferrari-branded product that is legally authorized to use the Ferrari logo and carry a Ferrari badge on its packaging, actually belongs to the Little Car Company. They're the guys in England who build beautifully engineered battery-powered scale replicas of legendary classic cars with the full backing of the the original manufacturers.
Small Cars, Big Prices
So far they've given us the Baby Bugatti, a mini Bugatti Type 35 that's been such a hit the LCC is churning out 5-6 per week at between $34,000 and $66,000 a go (most of them the $66k kind), and the Aston Martin DB5 Junior, plus its £90,000 ($119,000) James Bond spinoff, the gadget-packed No Time To DieEdition of the same vehicle.
Related: Road Legal 45 MPH Ferrari E-V for $110k It Nearly Happened, Until It Didn't
But the Testa Rossa J (J for junior) has to be the firm's best car yet. LCC proposed three models to Ferrari: The 330 P4, the 250 GT California Spyder (and the 250 Testa Rossa). The Cali might have seemed the most likely choice, but Maranello opted to immortalize the Testa Rossa, which is arguably Ferrari's most successful sports racing car, having notched up multiple World Championship wins and many high profile individual victories between 1957 and 1961, from the Targa Florio to the 12 Hours of Sebring.
Keeping the Testa Rossa competitive over such a long period meant evolving the car to hold off rivals like Aston Martin. So later versions had enclosed front fenders that improved high speed stability, but the shape everyone thinks of when they think of a 250 Testa Rossa is the early car with the "pontoon" arches designed by Scaglietti to aid brake cooling.
Attention To Detail
That's what's fitted to the Testa Rossa J, only miniaturized. Ferrari granted the LCC access the original blueprints to build the 250 Testa Rossa. This allowed everything to be scaled down, including the chassis and bodywork. Baby Bugatti customers have the option to choose from composite, aluminum or fibreglass bodywork. Ferrari, however, was determined that only aluminum would work. Every body is made by hand in Britain, and the paint inexcusably hides the intricate craftsmanship required in joining multiple sections of shaped steel together.
See a picture of the Testa Rossa J without a human or a real car in the same frame for context and there's little to give the game away that this is a bonsai classic. The scale of the Testa Rossa J becomes obvious as you approach it. You might be unsure if you will fit in. Unless you're an NBA star, you probably will, but anyone significantly over 6 ft might find their leg jammed uncomfortably between the chassis and the wood rimmed steering wheel.
Smaller than that 6 ft, and you'll fit just fine, while the seat back, which is designed with asymmetric padding to accommodate an adult and a child side by side, can be flipped over so that kids can reach the wheel and dad can ride shotgun. The wheel comes with genuine Nardi parts. You can upgrade the chrome wires to authentic Borranis or you can have them replaced by genuine Ferraris. What about the pedals? They're from a 488. And if the dashboard instruments aren't real old Ferrari clocks, they at least look the part.
Related: Would You Pay $20k For The World's Rustiest (And Engine-less) Ferrari?
The next is something that stays true to the Ferrari theme but takes it up 40 years. A manettino drive mode dial (the toggle doubles as the key) lets you choose from four different power levels, depending on who's driving. For example, you could limit very young children to the 1kW Wet mode and let older ones move to Comfort and 4kW. The real fun starts at Sport, which unleashes 10 kW, and peaks with Race mode's 12 kW output. It should reach speeds of 50mph (80km/h), although it was not possible for us to do a test drive.
Quick Acceleration, but no V12 Music
Even with only 10 kW, TR still takes the line well, with the thin 125-section tires connecting up neatly. The faint whine from the electric motor mixed in with the sounding wind whipping your ears, as the TR accelerates towards 45 mph (72 km/h). Ferrari was able to find an owner who would record the original V12 Testa Rosaa sound, but Ferrari and LCC decided that it was more honest to just add noise and do poor work, rather than having a car that sounds like a toy.
It certainly doesn't drive like a cheap toy though. The short travel suspension and tiny 12-inch Pirelli tires (as fitted to a 1960s Fiat 500) struggle to soak up really tough lumps in our ancient airfield test track, but the unassisted steering is smooth, precise and communicative, and there's little body roll evident when we fling it through the left-rights of the airfield perimeter road taking us back to the main straight for another lap. I've driven full-size so-called sports cars that don't handle this well.
Also: Which Classic Ferrari Should Inspire Maranello's Next Icona Model?
The front will wash wide if you drive hard. If the throttle is pushed back, it edges the rear axle out. But it doesn't feel like a natural slider. LCC CEO Ben Hedley says the little Aston DB5 Junior is a more of a drift machine, while the Testa Rossa is setup to keep things neat and tidy so that the fun comes from nailing that apex and slicing tenths on your way down to the mailbox every morning.
Most buyers will find it has enough power, but the chassis is so good it's hard not wonder what it might be like with double the muscle, and you'd certainly want more poke if you were planning on driving it on the road. While Ferrari decided not to take up Hedley's offer to give buyers a road legal option using quadricycle rules, you can bet that at least one will end of being converted after delivery.
Expensive? These are Relative Items
However, most of the 299 Testa Rossas will go to private owners and/or to be used to park between Ferraris. Original full-size Testa Rossas can also be sold for upwards to $40 million. And to people with that kind of money, the idea of spending $100k on a 50 mph golf kart that looks like a classic car probably doesn't seem that crazy. Well, they certainly won't be disappointed with the quality or the driving experience.
Ferrari appears equally content. The only request Maranello made when Hedley showed it the finished car was that he remove the Little Car Company badges from under the bonnet, and while neither party has officially confirmed plans for the future, Hedley hints that this won't be the last time the two will collaborate. Other OEMs will be waiting to join the LCC's rapidly expanding team.
What do you think LCC should next build? A Porsche 356 Speedster or 550 Spyder, a Blower Bentley, a '59 Cadillac or maybe a Mercedes 300 SL Roadster? Please leave a comment to let us know.
PHOTO GALLERY
more photos…
Chris Chilton Photos for Carscoops. Little Car Company