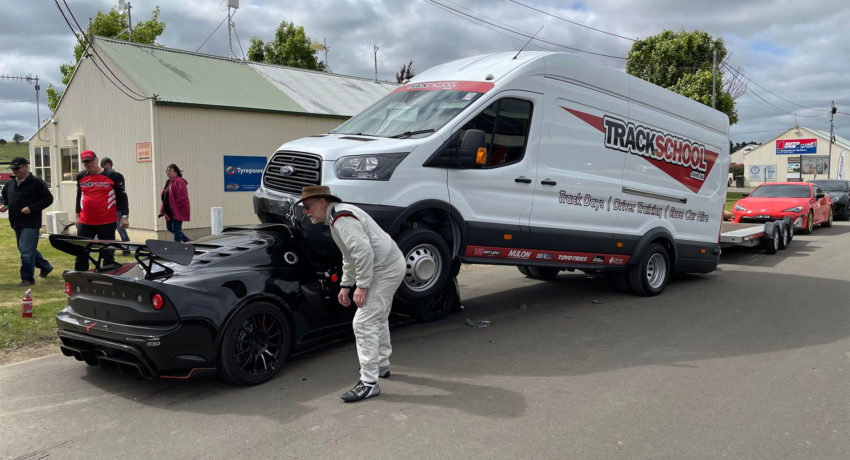 After a bizarre accident in Australia, a Lotus Exige Sport 410 was badly damaged.
The crash image was only shared. Reddit. The image shows the Evora black now under Ford Transit van, which is parked right next to a track.
The photo is so blurred that it could seem like the Ford driver drove off the road, and then crashed into the Lotus. But if we look closer it appears that the Lotus actually hit the van.
Read More: Lotus Exige Sport 410 Rockets From 0-60 MPH In 3.3 Seconds
The skid marks can be seen just behind the Lotus rear wheels. They indicate that the Lotus driver might have lost control, and may have rammed into the Ford's front.
That's what the original poster, "Mynutsaremusical" (…chuckle away, get it out of your system), who received the image from one of his buddies, claims too in a comment after speaking to him:
"So, it was the Lotus at fault. The poor guy fell while leaving the pit. Whats worse…the car was brand new, just bought and this was its first official outing. and because its a race track, I don't imagine insurance will cover much here."
The image doesn't provide us a look at the front of the Lotus but some pieces of bodywork can be seen strewn across the pavement. The Lotus' front bumper and hood have been broken, so it is not surprising that they were both crushed. There is also the possibility that the windshield of the Lotus has been broken. It appears as though there has been significant roof damage. This will most likely cause the insurance company to write off the vehicle.
Supercharged 3.5 liter V6 powering the Exige Sport 410 has 410 hp, 310 lb/ft (420 Nm), and is probably only one example in Australia.
Reddit image via Mynutsaremusical