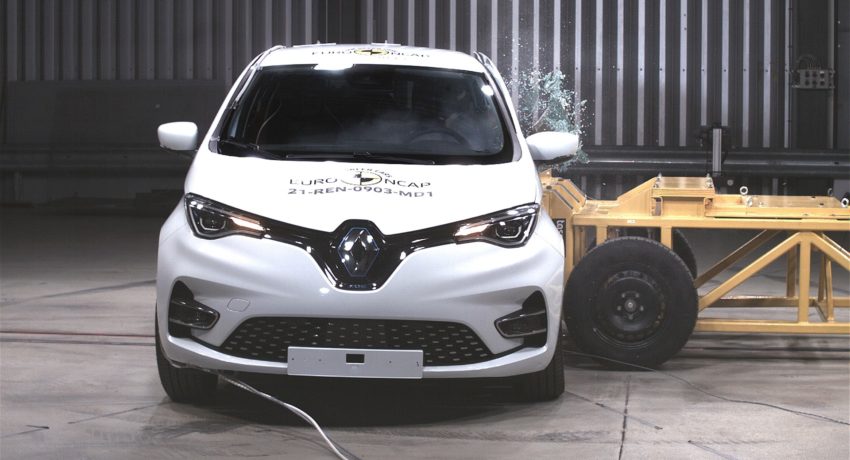 Euro NCAP released the final safety ratings of 11 models after they had been tested. The worst and most shocking result was the zero stars of the Renault Zoe and the single star of the Dacia Spring, with Euro NCAP declaring that the "Renault Laguna's legacy is ruined".
Renault introduced the Zoe back in 2012, and since the facelift in 2019 didn't bring any safety upgrades we didn't expect the electric supermini to nab a top rating under Euro NCAP's new testing protocols. A zero star rating, which would make Renault's worst-ever car, is not something anyone would expect.
See Also: BMW iX3 Excells On Euro NCAP's Latest Highway Assist Tests, Toyota Yaris Doesn't
[embedded content]
Euro NCAP said that the Zoe offers poor protection in crashes overall, and poor vulnerable road user protection while lacking "meaningful crash avoidance technology". The 2020 facelift, they said, did not improve safety. It replaced the existing seat-mounted side airbags that protected both the head and the thorax with an airbag for the thorax only. The score breakdown shows that Zoe received 43% for Adult Occupant and 52% for Child Occupant. 41% was awarded to Vulnerable Road Users. Only 14% of Safety Assist recipients were eligible.
A fully-electric Renault Group car, the Dacia spring, performed poorly with just one star. The Spring which is closely related to the Renault City K-ZE which in turn is an EV derivative of the aging Renault Kwid, got 49% in Adult Occupant, 56% in Child Occupant, 39% in Vulnerable Road Users, and 32% in Safety Assist. Euro NCAP described its safety performance as "downright problematic", with "mediocre" crash performance and "poor" crash avoidance technology.
See Also: Suzuki Baleno Gets Zero Stars In Latin NCAP Tests, Brand Allegedly Refused To Test Optional Safety Equipment
[embedded content]
Commenting on the aforementioned results, Michiel van Ratingen, Secretary General of Euro NCAP, said: "Renault was once synonymous with safety. Back in 2001, Laguna was the first car that received five stars. But these disappointing results for the ZOE and the Dacia Spring show that safety has now become collateral damage in the group's transition to electric cars".
"Only a few months ago, Dacia claimed that they were 'preoccupied with always increasing safety for those on board' and that their cars always have passenger safety improved. That's clearly not the case: not only do these cars fail to offer any appreciable active safety as standard, but their occupant protection is also worse than any vehicle we have seen in many years. The consumer is being cheated by offering a cheaper green vehicle, even if that means higher injuries in case of an accident. Other cars, such as the FIAT 500e, recently awarded 5 stars in Green NCAP, show that safety does not need to be sacrificed for environmental cleanliness."
Superminis, MPVs and luxury EVs get five-star reviews
[embedded content]
Contrary to popular belief, the rest of the group did a great job, with 76% of 11 cars earning five-star ratings. The Mercedes-Benz EQS Electric flagship was a strong contender in the Adult Occupant category with 96% and 91% respectively. There were 76% for Vulnerable Road Users and 80% in Safety assist. From rival BMW, the iX electric SUV achieved high scores in every single category (91% / 87% / 73% / 81%) going for an easy five-star rating.
The new generation of the Nissan Qashqai C-SUV showed top-notch safety performance with 91% in Adult Occupant, 91% in Child Occupant, 70% in Vulnerable Road Users, and a record-breaking 95% in Safety Assist.
[embedded content]
The Genesis G70 (GV70) and GV70 had the same scores for Adult Occupant (89%) & Child Occupant (87%), as well as identical Safety Assist scores (88%-87%). There was one difference with Vulnerable Road Users, where the sedan/shooting brake (76%) did better than the SUV (64%).
Skoda Fabia's supermini Skoda Fabia was also a budget-friendly safety star with excellent scores (81%/70%/71%/71%). The VW Caddy received a surprising five-star rating, which is unusual for this segment. It earned an 84%/82/2/ 69%/ 79%) rating that shows how safe light commercial vehicles have been over the last decade.
Read Also: Tesla Explains How It Uses Real-World Data To Make Its Cars Safer
[embedded content]
Two more fully electric vehicles, the Fiat 500e citycar (76% / 80% / 67% / 67%), and the MG Marvel R SUV (80% / 75% / 55% / 80%) also did well, achieving a "commendable" four stars.
Van Ratingen commented: "Bravo to these manufacturers for giving consumers the levels of safety they have come to expect. These results once more make clear that safety is all about good engineering and less about the type of powertrain or price per se."
Finaly, both the Audi A6 plug-in hybrid and Range Rover Evoque plug-in versions inherit five of their ICE-only counterparts. The Mazda2 Hybrid and Toyota Yaris Hybrid get the same five stars as the Toyota Yaris Hybrid, and the Mercedes-Benz EQB the five stars. In 2019, the Mercedes-Benz EQB will receive the five stars, and the Mercedes-Benz EQB the five stars. Meanwhile, the Renault Kangoo awards the Nissan Townstar with four stars.
PHOTO GALLERY
more photos…
Adblock test (Why?)