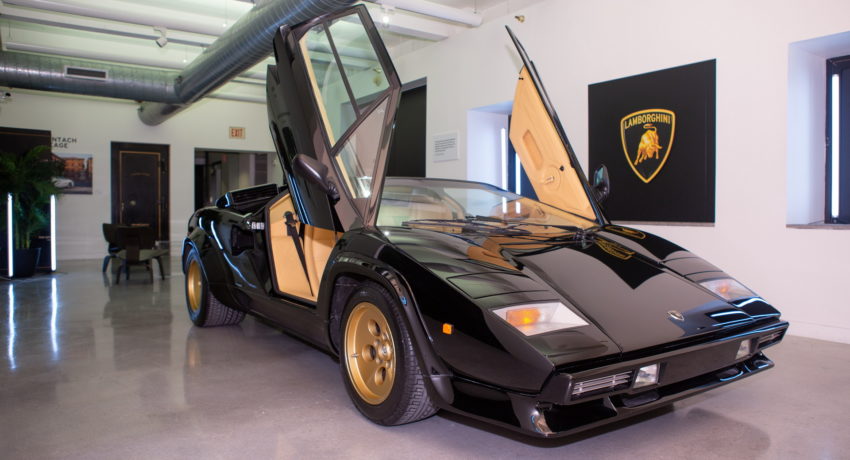 Lamborghini has officially opened its Art Basel Miami exhibition, which it is calling "Lamborghini Countach: Future Is Our Legacy."
The display was created in collaboration with the Consulate General Of Italy and The Wolfsonian FIU Museum. The display aims to demonstrate how Lamborghini cherishes its past while it works towards an electrified future.
As the centerpiece of the exhibit, a 1986 Countach LP 5000QV in black and gold is available for guests to explore. The exhibition tracks the car's history and then moves towards the future. Guests can complete the experience by looking at imagery from the new Countach LPI 800-4.
Read Also: Charging Bull: Lamborghini Boss Outlines Electrification Strategy, Readies EV Fourth Model Line for 2025+
The second electrified model, after the Sian, the new Countach LPI 800-4 is a part of Lamborghini's "Direzione Cor Tauri," which targets 50 percent lower CO2 emissions and a fully hybridized lineup by 2025, as well as its first fully electric vehicle in the second half of the '20s.
"Bringing the past to the present, this exhibition demonstrates how Lamborghini has consistently pushed beyond what is possible and still does so today with an ambitious plan for electrification," said CEO of Automobili Lamborghini Stephan Winkelmann. "With ground-breaking design and modern aesthetic being integral to Lamborghini's DNA, Art Basel Miami is the perfect environment in which to illustrate this journey and we are privileged to exhibit within such a prestigious museum as The Wolfsonian-FIU."
This summer, the new Countach LPI 800-4 was revealed. The design is a tribute to the Lamborghini Countach's 50th Anniversary. It is powered by a 769 hp V12 which is assisted by a 48-Volt electric motor that's located inside the gearbox and adds an extra 34 hp, for a total combined output of 803 hp. The power is sent to the four wheels by a seven speed automated manual transmission. According to Lamborghini it can reach speeds of 100km/h (62 mph), 200 km/h(125 mph), and a maximum speed of 355km/h (220 mph).
The "Lamborghini Countach: Future Is Our Legacy" exhibition and the Countach LP 500 QV will be on display until December 5, 2021.
PHOTO GALLERY
more photos…