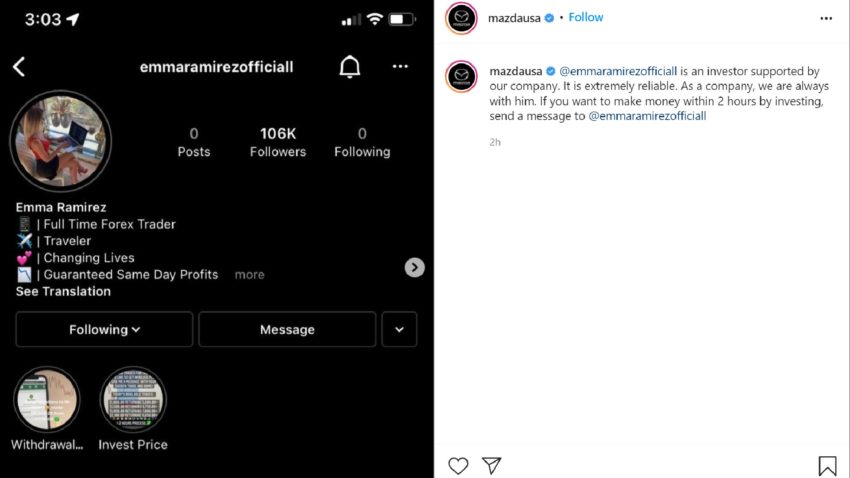 It is not uncommon to find trolls or fake accounts commenting and liking on social media. But hacking remains the best strategy for grabbing attention. According to their most recent Instagram post, this is exactly what happened to MazdaUSA's official Instagram account.
This is a screenshot of the last post from MazdaUSA's Instagram page, introducing us to Emma Ramirez, claiming to be a full-time forex trader and traveler, that loves "changing lives". The fake post suggests that this lady is an investor supported by Mazda, which is "extremely reliable". This profile boasts 106k followers and zero posts. It is clear that hackers can create a fake following.
See Also: Bring-A-Trailer's Instagram Page Hacked, Swaps T-Tops And T-Birds For Turkish TikToker Pics
The image was posted more than three hours ago but it seems that the administrator hasn't taken notice in order to delete it. To be fair, it's Thanksgiving Day here in the States, so a delay is to be expected. There is also the chance that hackers gained access to the account and don't allow the actual owners to log in and remove any unwanted activity.
See Also: Ford Narrowly Avoided A Massive Cybersecurity Leak Thanks To Friendly Hackers
We hope that Mazda followers won't fall into the trap and ignore this emmaramirezofficiall who is likely a scam trying to take advantage of unsuspected people and take their money in the form of "investments". We will stick with the previous post showing the recently updated CX-5 2.5 Turbo which was definitely uploaded by a Mazda employee.
Thank you to CX50forums crew for this tip.
Adblock test (Why?)