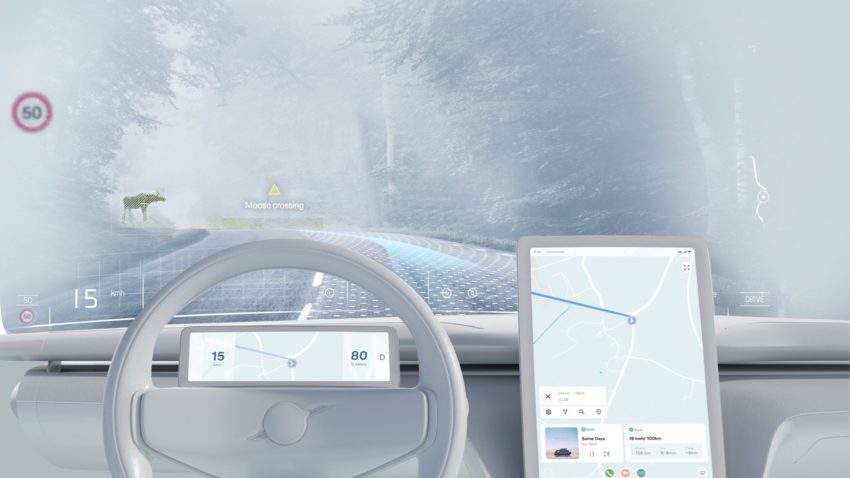 Volvo has funded a startup that could transform car windshields in to massive heads-up displays.
Through its venture capital arm, Volvo Cars Tech Fund Venture Capital, the Swedish automaker invested an undisclosed sum in optical and imaging tech firm Spectralics.
Israeli startup Spectralics created what they call a multi-layer thin combinationr (MLTC). It's a film that can be applied to transparent surfaces—like windshields.
Volvo claims that the MLTC films allow images to be projected onto walls, creating a larger head-up display with virtual objects layered above the actual windshield view. It could allow for a more immersive experience than the existing augmented-reality head-up display we have seen in 2021 Mercedes-Benz S-Class.
Volvo indicated that other uses could include in-cabin sensing filters and projections from forward-facing cameras, to lessen blind spots.
Volvo has not discussed when the technology may be available for commercialization or whether it will ever see production cars. An investment may be the first step in a more long-term relationship that might see Volvos with MLTC tech in the future.
The automaker invested previously in Silicon Valley-based lidar startup Luminar and announced in 2020 that roof mounted Luminar lidar sensors would be included in its production vehicles starting in 2022. Based on the SPA2 architecture, the first vehicles to receive lidar technology will be produced.
Volvo stated that the next generation XC90 would launch SPA2 in 2022. The automaker confirmed the electric XC90. However, gasoline-powered hybrid and plug in hybrid powertrains will likely continue.