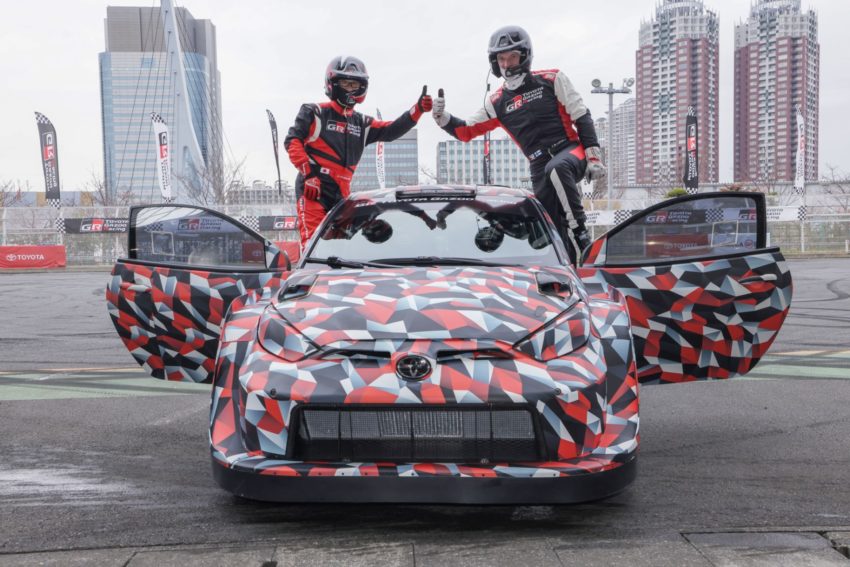 Toyota Gazoo Racing revealed its plans for motorsport in 2022. These included the Super GT, WEC and Dakar Rally teams. Toyota showed us the GR Yaris Rally1, a hybrid rallycar that will comply with new WRC regulations during the Tokyo online event.
2021 was a successful year for Toyota in WRC since they won all three of the manufacturers', drivers' (Sébastien Ogier), and co-drivers (Julien Ingrassia) titles for the first time since 1994. Their goal for 2022 is to repeat this success with a new car and four crews – Sébastien Ogier / Benjamin Veillas (France), Kalle Rovanperä / Jonne Halttunen (Finland), Elfyn Evans / Scott Martin (UK), and Esapekka Lappi / Janne Ferm (Finland) under the leadership of team principal Jari-Matti Latvala.
See Also: This Experimental Toyota GR Yaris' 3-Cylinder Engine Runs On Hydrogen
While the production-spec GR Yaris homologation special was unveiled in 2020, Toyota kept using the old model in WRC until this year. Because 2022 is a significant change in regulations, the Japanese automaker felt it was the best time to unveil their new rallycar.
As its name suggests, the GR Yaris Rally1 will compete at the top class of the WRC (Rally1) which requires all cars to use hybrid powertrains consisting of a 1.6-liter direct-injection turbocharged four-cylinder engine mated to an electric motor that adds 100 kW (134 hp) and 132 lb-ft (180 Nm) of torque, and a 3.9 kWh battery pack with carbon fiber housing positioned close to the rear axle.
Toyota presented a prototype car that had been covered with the Gazoo Racing camouflage. It was similar to one seen testing at WRC stages just a few months back. The new bodykit makes the car significantly larger than the road-going GR Yaris, even though it has the same 3-door body. This includes ultra-wide fender add-ons, custom bumpers, hood-scoops, a set of large and high-mounted side air-intakes, and a massive rear spoiler with extra fins on the profile.
The GR Yaris Rally1 will race against M-Sport's Ford Puma Rally1 and Hyundai's i20 Rally1 in the next season, starting from the Rally Monte Carlo on January 20-23.
See Also: 2022 Nissan Z GT500 To Replace GT-R In Japan's Super GT Series
Besides the WRC, Toyota will also focus on repeating its triumph in the WEC championship, racing at the Hypercar category (LMH class) with the GR010 HYBRID. In 2021, Toyota Gazoo Racing won the 24 Hours of Le Mans for the fourth year in a row, and dominated all races of the season for the first time ever, being rewarded with both the Teams' and Drivers' (Kamui Kobayashi / Mike Conway / José María López) Championship titles.
The automaker will also compete at the 2022 Dakar Rally with the GR Dakar Hilux T1+ while supporting the  Team Land Cruiser/Toyota Auto Body (TLC) and Hino Team Sugawara in the truck category. Toyota, which secured second in the 2021 race, will compete in this race. It will take place in Saudi Arabia in January 2022. The main crews for Toyota Gazoo Racing will include Nasser Al-Attiyah / Matthieu Baumel, Giniel de Villiers / Dennis Murphy, Henk Lategan / Brett Cummings, and Shameer Variawa / Danie Stassen.
In Japan, two specially prepared GR Yaris models will compete at the Japanese Rally Championship, six GR Supra GT500s will race at the Super GT series, 11 vehicles will race in the Japanese Super Formula Championship, and the hydrogen-powered Corolla Sports (Rookie Racing) will race at the Super Taikyu series alongside the GR86 (Tom's Spirit) running on biomass-derived synthetic fuel. Unfortunately, Toyota Gazoo Racing won't race at the Nürburgring 24 Hours in 2022 since the event conflicts with other major races in Japan.
PHOTO GAMERY
more photos…
Adblock Test (Why?)