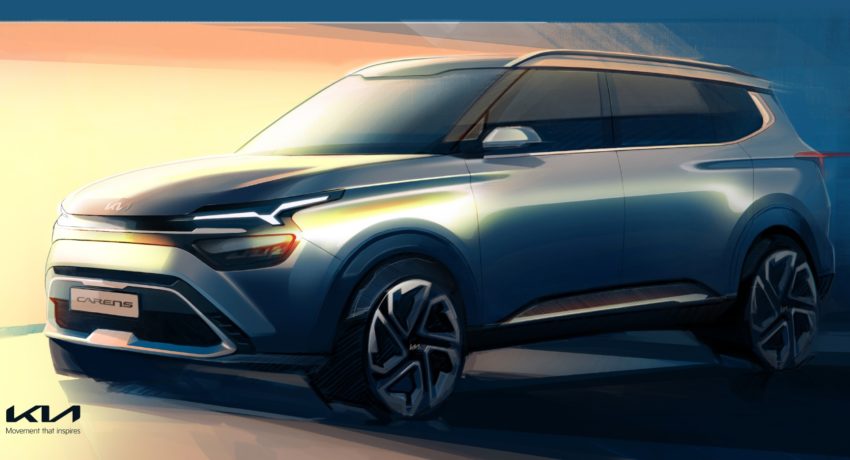 Kia, a few days later than the teaser video and in an official sketch before the debut of its fourth-generation Carens on December 16, shows us more.
The new Carens is a step forward in aesthetics compared with the old generation, which was sold as a minivan between 2012-2018. The new model adopts an SUV-style silhouette with higher ground clearance, two-box proportions, and adventurous styling cues while integrating Kia's latest design language called "Opposites United".
See Also: 2022 Kia Sportage Debuts In European Spec With A Shorter Body
The aggressive DRLs above the main headlights are expanded towards the sculpted lines on the fenders, and there's an aluminum-style surround on the lower air intake. The black A-pillars are designed to match the side sills and wheelarches with a floating roof effect.
The wheelbase appears quite long in the drawings, which allows for extra seats. At the back the modern taillights connect with a narrow strip at the tailgate. While the bumper's decorative insert is made of aluminum, the rear bumper features a decorative aluminum-style insert.
See Also: 2023 Kia Niro Swaps Out Conservative Looks For A Quirky Outfit
Inside, the steering wheel and the hardpoints look identical to the Seltos, which is to be expected since the two models are rumored to share the same underpinnings. The Carens has a futuristic dashboard design with a 10.25 inch infotainment screen integrated onto a full-width panel and chrome accents.
Carens follows the precedent set by its predecessors. They will feature seven seats and be space- and practicality-oriented. Karim Habib, Head of Kia Design Center, said: "The Kia Carens is a true reflection on what today's customers want from their three-row vehicles."
The official debut of the 2022 Kia carens is set for 16 December in Gurugram (India). We'll be able to learn more information about them very soon.
PHOTO GAMERY
more photos…