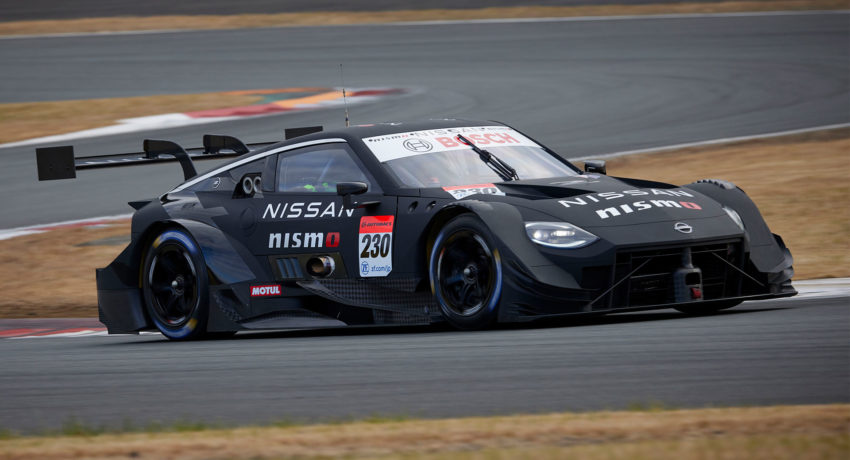 Nissan is retiring the R35 GT-R from Japan's Super GT Series and has just replaced it with this, the new Nissan Z GT500.

Fuji International Speedway unveiled the new car and it will compete in the 2022 season. It has big shoes to fill as the GT-R GT500 has been used in the Super GT Series for the past 13 years and claimed 5 driver's championships during that time.
The Z GT500 is a far cry from the road-going version. While the front-end retains the production model's headlights, everything else has changed. The new bumper features a carbon-fiber splitter and carbon canards. The wheel arches have been made wider to increase aerodynamics.
The Z GT500's sides are a visual treat thanks to their complex carbon fiber skirts. These skirts were designed to increase downforce and help the car stick to the asphalt. The Z GT500 also features center-locking wheels and a large, wild-rear wing.
Nissan hasn't released technical specifications about the car but vehicles competing in the GT500 class are all powered by a 2.0-liter turbocharged four-cylinder that can pump out up to 650 hp, a cool 250 hp more than the road car despite being 1.0-liter smaller, having two fewer cylinder, and one less turbocharger.
Check out this video: A Baby GT-R sounds similar to the Nissan Z
"The Nissan Z GT500 symbolizes Nissan's spirit of taking on challenges and bringing excitement to life," Nissan chief operating officer Ashwani Gupta said in a statement. "Through our racing efforts we continue to innovate our cars and we race to win with the same daring we have displayed so many times over the years."
"We are entering the 2022 Super GT series with our all-new Nissan Z GT500 car and our huge passion for motorsports," added president and chief executive of Nismo Takao Katagiri. "We hope that our fans will continue to passionately support the Nissan and NISMO motorsport teams."
PHOTO GALLERY
more photos…