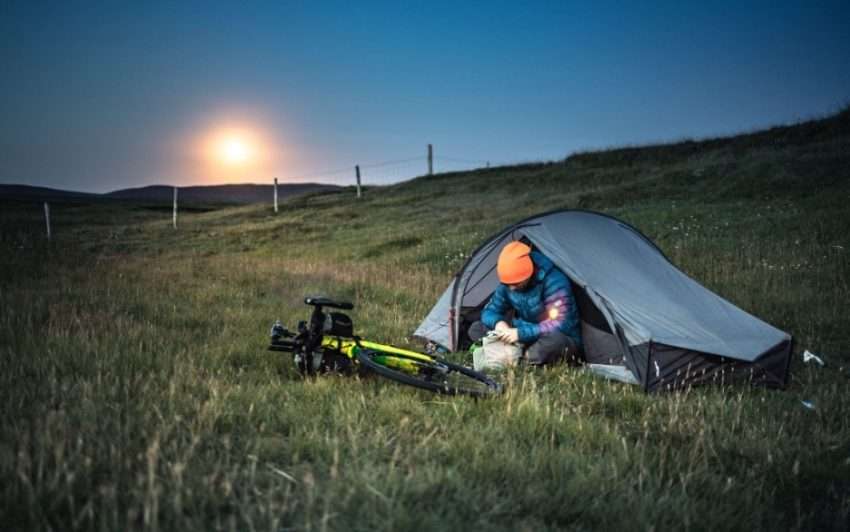 Biking and camping each come with their own unique set of challenges, but when you combine them, that's a whole different story. You may already be familiar with the list of things you'll need for camping, but when you add biking to the mix, you start to reduce the items on that list.
When going bike camping, you'll need to pack light, so it's easy for you to carry them. But you also must ensure you have the camping essentials and biking gear required for the journey. Here is a guide to help you prepare a checklist of what you should carry with you on your bike camping adventure.
1.  Bike Bags and Racks
Also known as panniers, these are great for storing food, water, and clothes. You can adjust them at the back or the front rack. However, ensure these are appropriately mounted; otherwise, they may come in contact with the heel and make pedaling difficult.
Other bags include baskets where you can either mount them at the front, hanging from the handlebars, or at the back of your bicycle. Mounting them at the rear is more convenient if you have tall loads to carry, as these baskets don't have a lid.
Saddle packs, also called underseat bag, attaches to the lower end of your bike or the rails of the saddle. You can carry small items in this one, such as a spare tube, pocket knife, tire levers, and so on. You can also enclose some energy bars for a quick snack while riding.
Handlebar packs, as the name suggests, secures to your handlebars with a strap. This pack provides easy access, which is why you can put it in your wallet, phone, camera, or anything valuable in it.
Other bags such as rack trunks and frame bags are secured to the rear side or the top tube of your bike. They are great for carrying clothes, food, water bottles, or any other heavy load.
2.  Biking Tools and Gear
First and foremost, if you're planning on a bike camping trip, you need a perfect bike. You'll need adventure bikes with various attachment options, so carrying your gear would never become an issue.
The tools you'll need to carry when going on a bike camping trip:
A set of wrenches,
chain brush,
clean rags,
tire levers,
a couple of spare tubes,
Small flashlights and/or LED headlights
Spare tires
Pump
A patch kit, to name a few.
Maintaining your bike is just as essential for you to have a bike camping adventure without any hassles. If you're unsure what to take and where to get them, you can browse online for bike accessories. You'll be able to compare other models, which will help you decide on the gears that are perfect for you and your bike. 
3.  Sleeping Bag
A sleeping bag is the most important item on your list. Though you may expect to have good weather where you're going, it's wise to be prepared for anything. Temperatures drop during the night; therefore, it'll be a good idea to get a sleeping bag where it'll keep you warm.
A good night's sleep is essential for you to continue onwards with your journey. Therefore, a camp pad or an air mattress that is lightweight and can be packed easily can keep you off the roughness of the sleeping ground. It'll also keep you warm and comfortable on a wet night.
4.  Lightweight Spacious Tent
Another important item is the sleeping tent. You'd want a tent that's lightweight and yet can be easily folded and packed away. But if you want to go extra light, you can pack a hammock instead of a tent. Just make sure there are lots of trees where you're going, which would help to tie or support your hammock.
5.  Cookware and Utensils
You can easily find lightweight cooking utensils that are perfect for camping: a battery-operated stove, small cooking pot, mug, and a spork. Spork is a popular hybrid cutlery that combines a spoon and fork and is popular among campers.
If you're not going to bring a stove, for lack of space, then you'll need to build a campfire. In that case, you can carry a bottle of fuel and a lighter to save you the trouble.
6.  First Aid Kit
This, without a doubt, is another most important thing to carry with you in case of emergencies. Blister patches, bandages, alcohol pads or rubs, and painkillers will help with the basic cuts and scrapes.
7.  Extra clothes
These days we don't do it much, but when we go for outdoor activities, it often results in torn clothes or sweaty pants. Therefore, it is a good idea to pick light wear clothes (typically made of polyester fabric), when going bike camping. Examples are shorts, jerseys, tank tops, socks, undergarments, bike gloves and so on, as these fit in bags nicely and don't take up too much space. You can opt for a coat or a jacket to protect you from freezing weather.
8.  Nourishment
If it's a one-day tour, you can stock up on power and energy bars, canned food, and water bottles. If the trip is for a couple of days, you can take canned beans, veggies or fruits, cup noodles, dried foods, etc.
But if you're determined to go out and enjoy luxury cuisine, then taking a cooler with you becomes necessary. That way, you can enjoy sausages, fish, and all other perishables on your trip. The only downside to this: the heavy load.
Jerky, dried food, and fruits are the best options for a healthy snack time. You can carry them in zip lock bags as they won't take up much space.
Apart from food, hydration is a non-negotiable option. The number of water bottles you can take depends on where you travel. If your path has water reservoirs that you can easily refill, consider taking water purification tablets, just in case.
9.  Solar Charger
If you're in a remote area with no signs of stores that could provide an electrical outlet, solar chargers are your savior. You need your phone not only for emergencies but also to use the map to navigate to your destination.
10.              Toiletries
No matter where you go, try maintaining good hygiene practices to avoid coming in contact with unwanted viruses and pathogens. You do not want to be sick a hundred miles away from home. Therefore, carry a small foldable toothbrush, small travel toothpaste, sanitizers, and soap, and don't forget that toilet paper!
In a Nutshell
Bike camping may sound intimidating as two outdoor activities are joined together. But it doesn't necessarily have to be if you know where to go and what to take. With a little bit of clever packing, you're good to go to have an adventure of a lifetime even if it's for a day!