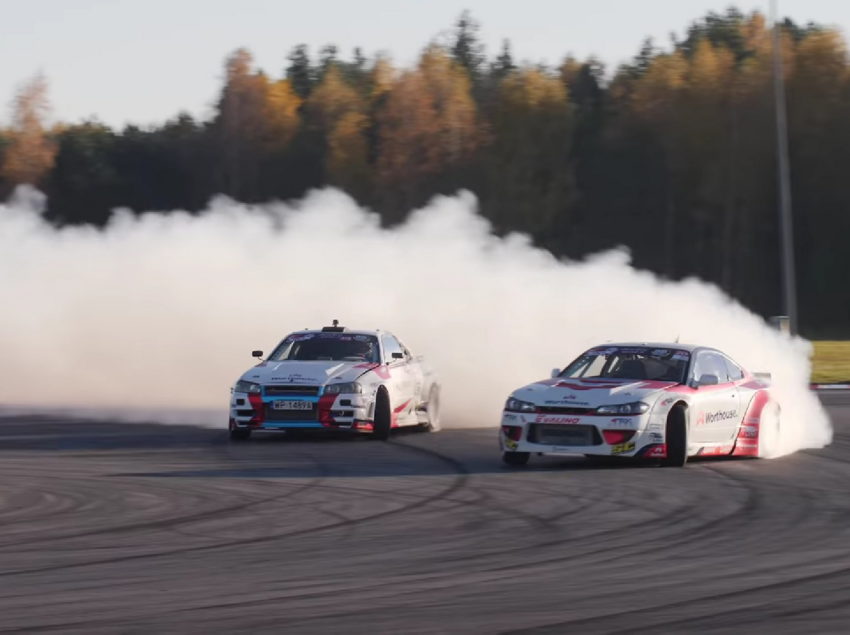 While there are obvious differences between sim racing and the real thing, the question of how much simulation training prepares one for the real deal is still a hot topic.
One twist that I've never seen is the preparation of a sim driver for drifting. The Drift Masters European Championship, though, has decided to put Rhys Tatterson, 2021's Drift Masters Virtual Champion, in a real car to find out.
The sim racer shot to prominence this year and has now been given the keys to a 900 hp (912 PS/671 kW) Nissan Silvia S15 drift car that was driven to its own championship win by Piotr Więcek, who joins in to give Tatterson some tips and tricks.
Read Also: OG Racing Sim Gran Turismo Started As A Mario Kart Rip-Off
"From my experience comparing one to the other, you don't have so many g forces [in the virtual world]," says Więcek while showing Tatterson around the car. "You don't feel what's going on."
Sim racers agree that there are many benefits to being able to feel everything below you. However, smoke can also fill your cockpit in a drift session.
Tatterson is a novice driver who claims this is the first time he has ever driven a drift car professionally. Tatterson takes things slow initially, but he soon becomes more confident and tries a donut.
"Oh, man, if you could tell how nervous I was during the first clutch kick," admits Więcek. "But then on the second transition, I could see that [Tatterson]I was driving the car using the clutch and excellent steering wheel control. I was like 'Okay, he's a natural.' He was doing it like he's been doing it for three or four years."
After just one outing in the car, Więcek gets out, saying he's just ballast. The video ends with the tandem drifts performed by Wiecek and the other driver. So, if you're looking to get into drifting, sim racing isn't a bad place to start after all.
[embedded content]
Adblock Test (Why?)