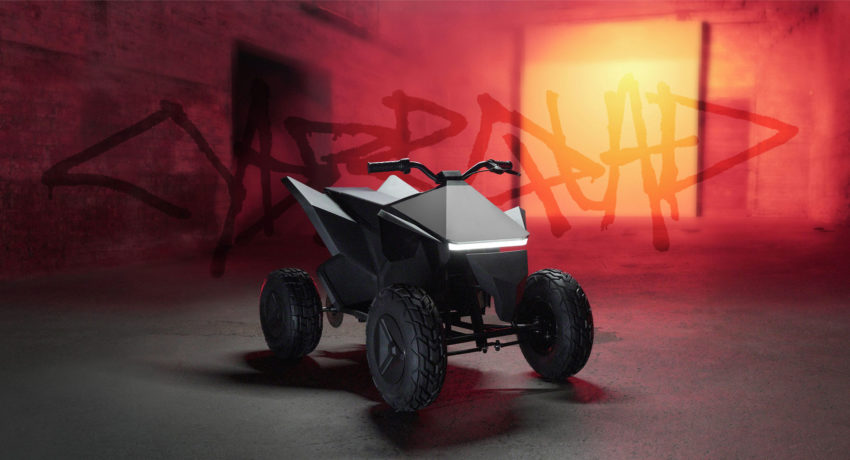 The Tesla Cybertruck has been delayed until 2022, but the Cyberquad has arrived on schedule – albeit in a slightly different form.

The Cyberquad was originally unveiled with the Cybertruck in 2019. It is an electric ATV built to fit into the pickup's bed. Elon Musk, Tesla's CEO, said that the Cyberquad would be available at the exact same time as this year's Cybertruck.
While the Cybertruck is running behind schedule, that hasn't stopped Tesla and Radio Flyer from launching a $1,900 Cyberquad for Kids. The Cybertruck-inspired design features an ATV frame made of steel and LED lights bars. It also features a cushioned and adjustable seat as well as a rear disc brake.
Check out these other articles: Elon Musk: All-Electric Cyberquad All-Electric ATV to Land in 2021
A removable 36V lithium ion battery pack provides power, with a range of up to fifteen miles (24 kilometers). That's pretty generous for a kid's toy and Tesla said the battery can be fully recharged within five hours using a household outlet. The model can be set to go at speeds of 5 mph (8 km/h), and 10 mph (16km/h).
Cyberquad for Kids can be used by children up to 150 lb (68 kg) and is recommended for children 8 years old or older. However, you'll have a tough time getting one for Christmas as the model is unsurprisingly sold out.
USA Today – H/T
PHOTO GALLERY
more photos…