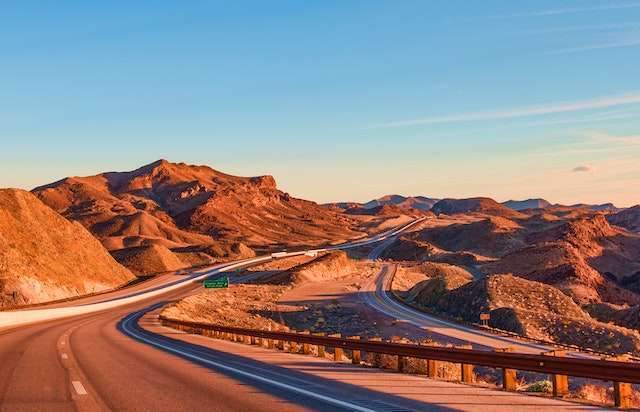 Ah, the great open road. There's a traveler in all of us that longs to drive into the wilderness and see things we've never seen.
Many of us will never do it. Some of us would like to, but don't know where to begin.
There's almost as much fun in the planning than the drive itself.
First, you need to trace your route. See:
Where different routes go through
Interesting places to stop
Which stretches are the easiest/most difficult
What are your goals? See lots of tourist sites, or enjoy the scenery
Are you going to camp or stay in motels? Sleeping in your car might attract the wrong attention.
Route options
Which routes are the most popular when driving across North America? Everyone has heard of Route 66, but here's some others that may be attractive.
North to South
When driving across the country, you might want to buck the east to west trend. Why not head down U.S. 83 and see the country from Canada to Mexico (or vice versa)?
This road really takes you through rural America. There are no metropolitan areas on the way, so you just have the great expanse and your thoughts.
It is 1,885 miles long though, so you better have a good wagon to travel in.
Transcontinent from Massachusetts to California
Take the U.S. Route 6 to travel through 14 states on your great drive across the country. Also known as the Grand Army of the Republic Highway, it is
One of the oldest roads 
One of the longest roads in the country
It's an easy drive that most people say takes around three weeks.
Some of the sights you should take in along the way include:
Dark Sky Preserve in Cherry Springs State Park (the Milky Way can be seen)
Pine Creek Gorge, Pennsylvania's Grand Canyon
The Rock N'Roll Hall of Fame, Cleveland, Ohio
Red Rocks Park and Amphitheater, Denver
Preparation is key
Before you undertake a journey that will last several weeks, there are some things to consider. It's important that you are fully prepared, as driving for long distances isn't something you can wing.
If you're not mechanically minded, then you should take your car to a garage for a full work over.
Think of everything that could go wrong on a journey, and prepare for it.
Check the oil, and make sure you have a spare can
Look up places along the way where you can replenish. Sometimes you may be quite far from a garage.
Are your tires in need of renewal? Make sure your tires are in good condition, and that you have at least one spare.
Is there enough water in the radiator?
Is the air-conditioning working, and fully functional?
Check other fluids – windscreen wiper fluid, etc.
How comfortable is your car?
Are the seats adjustable? You'll be seated for a long time, so ensure that you're relaxed doing so.
Another thing people often forget is to ensure their phone service provider works in remote areas. It may be a good idea to have a back-up.
Packing
What supplies do you need for your journey? Don't forget:
Chargers for your electronics
Back-up generators
A torch
Extra food and water, in case you get stranded somewhere overnight
Mental preparation is key too. Are you doing all the driving or sharing with someone else?
How much driving will you do every day? Remember to schedule breaks and allow yourself time in case anything goes wrong.
Driving across America is something you'll remember forever. Getting things organized before you go will make your trip easier, but the unexpected will arise.
The best thing to do is be open to what happens on your journey. Try to let go of any preconceptions and enjoy the ride!