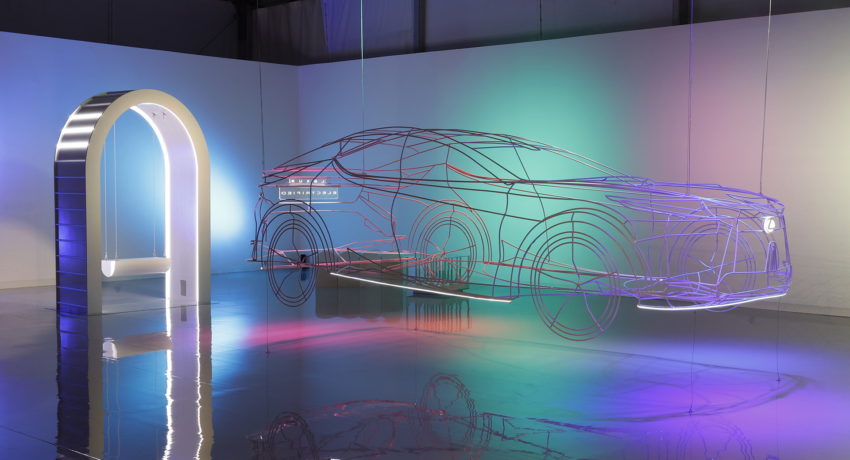 Lexus partnered up with Germane Barnes (American architect, designer, and assistant professor of architecture at University of Miami) to create a sculpture based upon the LFZ Electrified idea.
Barnes, along with students from the University of Miami created a 3-D sculptural representation of the LFZ Electrified concept in steel. It is illuminated by embedded LED lighting. As a tribute to classical architecture, the entire piece is suspended between two swings. They are then anchored in illuminated arches.
"Lexus embodies elements that are essential markers of high-quality design for today, while also echoing my personal values," said Barnes. "Designing for a future that is collaborative, sustainable, equitable, and prioritizes the unique experiences of individuals is both a driving force of my practice and my work with students here at the University of Miami."
Read More: Lexus LF-Z Electrified Concept Previews Brand's Styling, Tech And Performance Future
Called "ON/," the name is a reference to the On/Off switch as a vision of a carbon-neutral future. A lighting system is used to unify the entire installation. It allows anyone to take part in it via a virtual model.
To highlight specific aspects, the lighting can be adjusted for the digital version. Barnes will select the best version and display them live at Design Miami/2021.
"We're thrilled to bring this incredible project from Germane Barnes and the University of Miami to Design Miami/ in our fourth year of partnership with the fair," commented Brian Bolain, Lexus' global head of marketing. "As we look towards next-generation design, this project has given us a chance to highlight Lexus' commitment to electrification while working closely with the students at UMiami who are incredibly talented and truly represent the future of design and innovation."
The project, which Barnes also helped to make possible, was made possible by students Isabella Adelsohn and Mahlia Jenkins of the School of Architecture, University of Miami. Also, Indrit alushani (lecturer and RAD Lab manager) and Rodolphe el-Khoury dean of University of Miami School of Architecture.
Lexus will again be the automotive partner at Design Miami/ 2021. It is currently open through December 5th, for the fourth straight year.
PHOTO GALLERY
more photos…