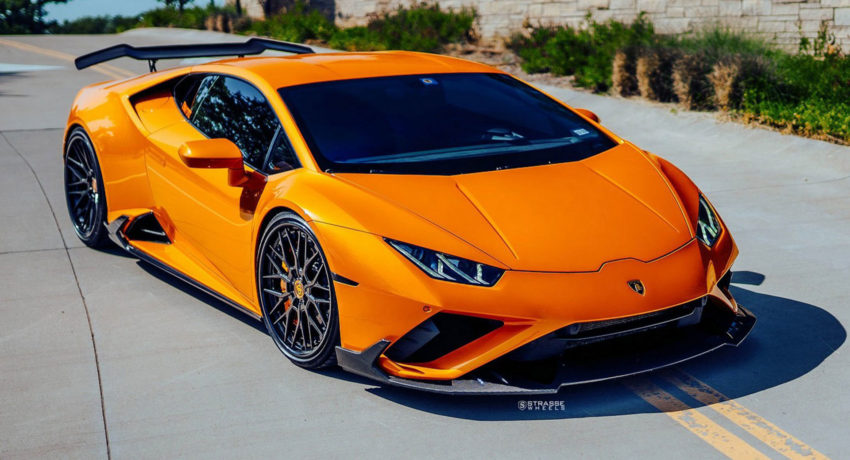 Although the Lamborghini Huracan Evo is not an STO, it makes quite a statement.
Adorning the exterior of the V10-powered supercar is Lamborghini's familiar color of Arancio Borealis, a luminescent shade of orange that really sparkles under the sun. To enhance the aggressive look, the owner added an aftermarket bumper to the front and a carbon fibre splitter.
You can also read: Owner of friendly dog bear accidentally opens door to Lamborghini Huracan Performante
Along the sides of the Huracan Evo, bodywork modification continues with carbon fiber skirts. A color-matched diffuser is found at the back of the HuracanEvo, along with a towering Wing, a carbon fiber cover for the engine, and an exhaust system made from titanium.
The look is completed with a set of aftermarket tires. Strasse supplied the SV10 m Deep Concave FS wheels. They measure 20×9 at the front and 21×12.5 at the rear and have a gloss black finish with hidden hardware. These machined wheels don't just suit the exterior design of the Huracan Evo very well but also work perfectly alongside the carbon fiber trimmings found throughout.
Although the Huracan Evo is not able to compete directly with its twin-turbocharged counterparts from Maranello, Woking and Woking in a straightline, it can make a strong statement by being a Lamborghini. In addition, no mid-engined Ferrari or McLaren can match the howl of the Huracan's 5.2-liter naturally aspirated V10.
PHOTO GALLERY
more photos…