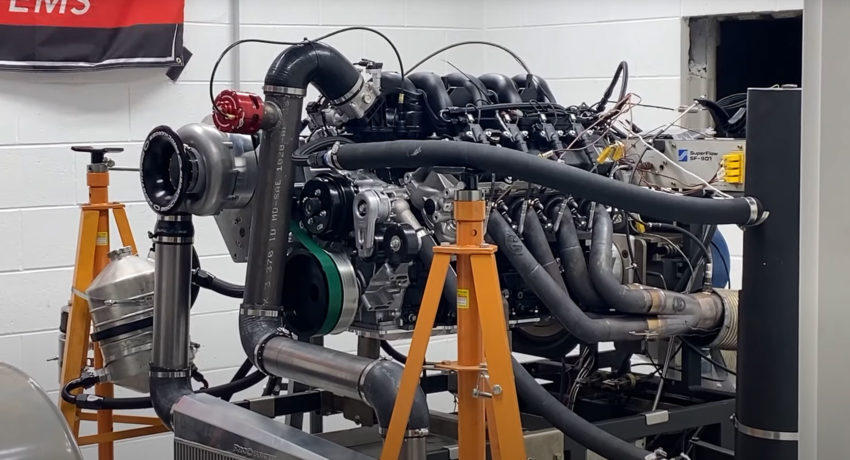 Ford's 7.3-liter Godzilla V8 is quite a remarkable powertrain and this video shows that with a supercharger, it can be made even more impressive.
To replace its previous 6.8-liter Modular, V10 engine, Godzilla was first presented by the automaker in 2020. In standard guise, this naturally aspirated 7.3-liter behemoth, which powers the brand's Super Duty trucks but is also available as a crate engine, delivers 430 hp and 475 lb-ft (644 Nm) of torque.
Two tuners purchased a ProCharger Supercharger to boost the engine's power and installed it on their V8. This engine was equipped with the same fuel injectors as a Mustang Shelby GT500 GT500 to produce an incredible 965 horsepower and 845 lbft (1,145 Nm) on a Dyno.
See also: Ford Rumored To Work On A Twin-Turbo Model Of The 7.3-Liter GodzillaV8
The ProCharger system, new fuel injectors and upgraded Stage 2 heads are complemented by upgraded pistons and camshafts. This monster engine can be tuned with an upgraded air intake pulley and pistons to produce as high as 1,200 horsepower.
Other tuners have also modified the Godzilla engine, adding turbochargers and superchargers to it since its introduction. Interest in a higher-powered version of the Godzilla V8 has apparently prompted Ford to begin development of a twin-turbocharged variant of its own, reportedly dubbed the 'Megazilla.'
Although it is not clear how powerful the new Megazilla engine will deliver, some tuners have built twin-turbo versions of the Godzilla V8 that produce over 1,000 horsepower.