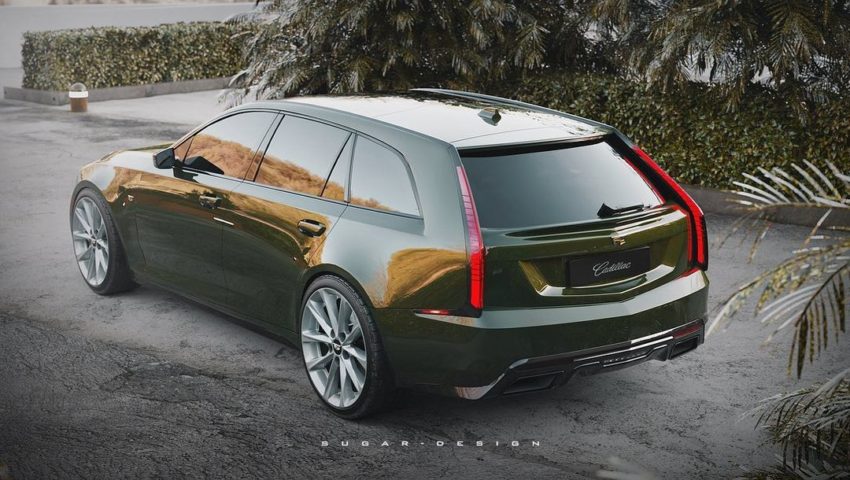 This article includes independent illustrations for a hypthetical CT5 Sports Wagon made by Instagram user  sugardesign_1 who is neither related to nor endorsed by Cadillac.
Cadillac is unlikely to launch a wagon-based version of its CT5. But these renderings suggest that it might make an incredible model if Cadillac does decide to create one.

As you probably already know, the CT5 replaces the CTS in Cadillac's range. The CT5 will only be available as a 4-door sedan. Previous iterations were offered in coupe and sedan versions. That's a real shame as offering it in more body styles could help to boost sales.
See Also: Surprising, Cadillac CT5-V Blackwing Drives Better Than BMW M5 CS. However, Tesla Model S Plaid Has The Best Speed
Instagram user sugardesign_1 has digitally transformed the CT5 sedan to a model similar to the CTS Wagon. This is why the CT5 five-door sedan has similar taillights to CTS Wagon. They extend up from the bumper to roof giving it an extremely cool look. The rear end of the CT5 is almost identical to the CTS Wagon's, but it looks modern.
These stunning CT5 Wagon renders show the car sporting large silver wheels and an almost identical front fascia to the sedan. That's no bad thing as the headlights of the sedan actually complement the taillights of the Wagon quite nicely.
Cadillac should offer the CT5 Wagon with its flagship V Blackwing trim to satisfy a small but passionate group of fans. The 6.2-liter supercharged V8 would power such a vehicle, generating 668 hp. This will give it the strength to compete with the Audi RS6 Avant.
Adblock Test (Why?)