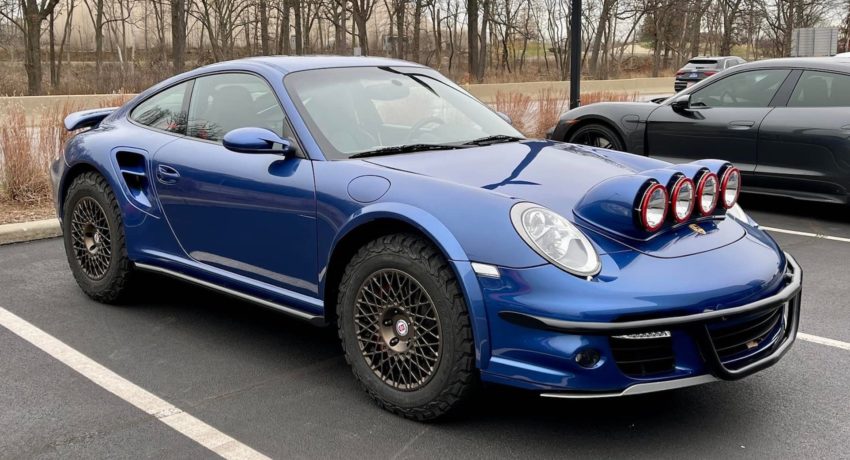 Because of its tiny dimensions, excellent visibility and all-wheel-drive, the Porsche 911 Turbo is already the top winter-beater supercar.
This modified 911 Turbo Safari-style 911 Turbo, spotted by Matt around Chicago, looks ready to face any weather catastrophe.
The smaller door mirrors and non-LED taillight lenses tell us it's a 997.1-generation 911 Turbo built between 2006 and 2008. The cars were built between 2006 and 2008 with Hans Mezger's flat-six. It produced 473 horsepower (480 PS), and as much as 502 lb/ft (680 Nm), in overboost mode. The engine's 3.6-liter displacement could be producing far more if it has received the same upgrades to its chassis.
Related: Porsche 911 Safari Reveals Its Adventure-Bred Spirit
We don't know anything about the 911, which was snapped outside a Porsche dealer and uploaded to the Chicagoland Petrolheads and Car Spotters Facebook group. But the pictures show it's been treated to a suspension lift to improve the ground clearance and make room for a set of 17-inch HRE cross-spoke alloy wheels wrapped in BF Goodrich All Terrain rubber. This package is very similar to the Porsche Safari 911 prototypes that spy photographers captured several times in this year's photos.
The front fenders have subtle, body-color arches, as well as bullbars at the rear and front. There's also a large pod with four huge spotlights that mount in the hood. There are no interior pics, so we can't be sure if it's running a six-speed manual transmission or the optional five-speed Tiptronic auto (the game-changing PDK didn't arrive until the 997.2 in late 2009). We can see a rear cage, and the small hump at the top of the dash that indicates it has the Sport Chrono package.
Even getting on for 15 years down the line, these Porsches aren't cheap. The most accessible ones we found on Auto Tempest were still over $70,000, and that doesn't include the cost of the conversion – the wheels alone would run to over $9k. We'd love to daily this beast through winter, what about you?
Thank you to Matt Zaiff, for these photos!
PHOTO GALLERY
more photos…