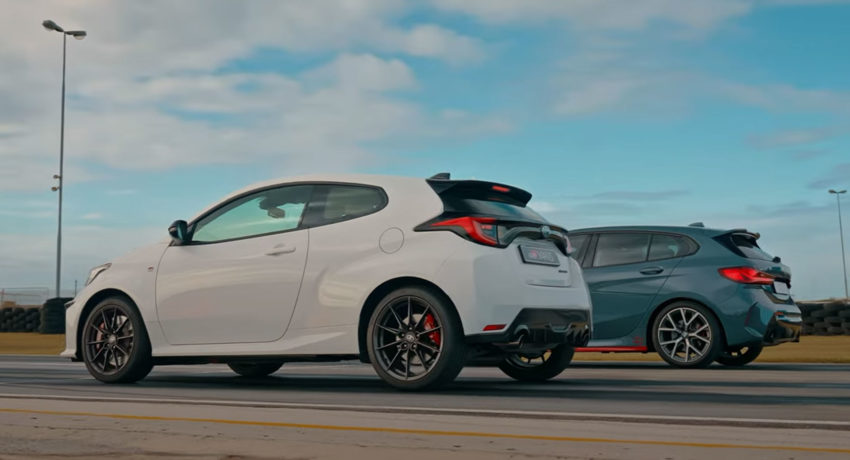 Toyota GR Yaris quickly became one of the most popular hot hatches. It can reach 62 mph (100 km/h), in just 5 seconds, in ideal conditions. Surely the front-wheel drive BMW 128ti can't keep up with it in a straight, right?
Cars.co.za brought the two of them together to race in drag races. The results were closer than you might think.
Check out this Insane Toyota GR Yaris, as Powerful and Fast As A Porsche 911 GT3
Toyota's 1.6-liter turbocharged engine three-cylinder, which produces 268 HP and 265 Lb-ft (265 Nm), is clearly the superior vehicle. The six-speed manual transmission is available and it can be all-wheel driven. Comparatively, the BMW 128ti is 261 HP and 295 Lb-ft (405 Nm) European-spec, but it's only sold with front-wheel driving and an eight speed automatic transmission.
Although he did bog off the line slightly in the initial race, the driver for the GR Yaris has the fastest launch. It was still a strong lead for the Toyota. As the speed increased, however, the BMW started to catch up and eventually crossed the line about one foot in front of Toyota.
The second race isn't quite as close as the driver of the Toyota got an even better launch after holding the revs at 5,500 rpm before side-stepping the clutch. The 128ti had no chance of catching up, although it did manage to claw back some of the Toyota's lead in the second half of the race.
[embedded content]
Adblock Test (Why?)